William (Bill) John Seeliger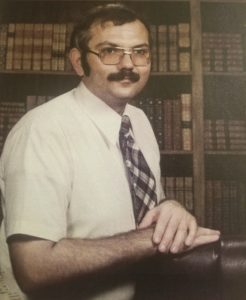 William (Bill) John Seeliger, of Clear Lake City, TX passed the morning of Tuesday, April 5, 2022, at the age of 74 from complications of Covid and Pneumonia.
Bill was born on October 22, 1947, in Casper, Wyo. at Wyoming General Hospital. When he was young, he was very proud of his job as a paperboy in Casper and was known to be adventurous during his teenage years. In 1964 at the age of 17, he joined the Navy and was stationed in Chu Lai, Vietnam. He was a level 4 Radioman who decoded orders sent to the Navy. He was honorably discharged from the Navy in 1968, where he returned to his hometown of Casper, Wyo.
Bill was blessed with a loving family. He met his wife, Carol A. Prell, of 53 years, on a blind date in Casper. They married at Riverview Baptist Church on October 4, 1969. Bill was blessed with two daughters: Nikki and Andie; and one granddaughter, Danie.
He instilled confidence, a love of music, and a great work ethic in both of his daughters. His granddaughter was the light in his eyes when he smiled. They shared a great love of science with each other, and he helped her win several Science Fair ribbons through the nine years of projects they worked on together.
He graduated from Colorado School of Mines with a Bachelor of Science in Chemical Engineering in 1974. He received his Masters in Business Administration from the University of Phoenix in 1995. He worked for Celanese Chemical/Pharmaceuticals for 36 years. In his job, he worked on several projects throughout the years and ended his career traveling the World implementing work processes at Celanese plants. He retired from Celanese in May 2009.
He did not remain retired long, in 2014 he became an Adjunct Professor for the Process Technology program at San Jacinto College (Central). He enjoyed teaching students about his vast knowledge of Chemical Plants. The classes he enjoyed teaching were Physics, Introduction to Process Technology, and Equipment and Systems. He taught for eight (8) years as an adjunct and enjoyed it immensely.
Bill was an avid music lover who liked to play his favorite artists: Bob Dylan, Willie Nelson, Simon and Garfunkel, and The Beatles (to name just a few) as loud as he could, over speakers in every room of the house and on his Harley Davidson. He was a member of the Harley Owners Group in Corpus Christi, TX, where he served as president. He was a lifetime lover of motorcycles and he drove his beloved Harley Road King, until he was 70.
He also loved his cats very much and enjoyed a great glass of wine and cigar outside on a clear evening with his family and friends. He really enjoyed traveling the world with his beautiful wife and enjoyed attending his granddaughter's softball games every chance he could.
He is predeceased by his father, Carl Henry Seeliger, his mother, Erna Pauline (Haas), and his brother Lawrence (sister-in-law, Renate) Seeliger. He is survived by his wife, Carol; his daughters Nicole (son-in-law, John) Dadurian and Andrea Seeliger; his granddaughter Danyelle Wheatley; his sister Carolyn (brother-in-law, Dennis) Ryan; his nieces and nephews: Dwayne, Michelle, Tammy, Heather, Robert, Jr. and Alexandria; and his beloved cats Rufus, Simba, Dewey, and Redford.
A "Celebration of Life & Memorial Service" will be conducted on Friday, April 22, 2022, at 3 p.m. in The Crowder Funeral Home (111 E Medical Center Blvd, Webster, TX 77598). A reception will be held after the service for family and friends to come and share stories about Bill at their home in Clear Lake City (Houston). He will be buried later, in the Houston National Cemetery during a private ceremony with family.
Thereafter or in lieu of flowers, memorial donations may be made to the American Heart Association or The Wild Cat Sanctuary at https://www.wildcatsanctuary.org/.
The family would like to thank all the friends and family who will be speaking in honor of Bill at the "Celebration of Life & Memorial Service."
Bill's favorite quote in his lifetime was: "It's the journey, not the destination."