William (Bill) Hinkle Potter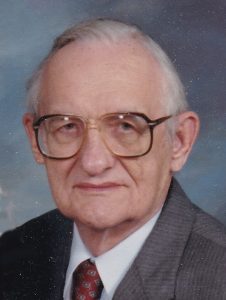 William (Bill) Hinkle Potter, age 96 departed this Earth on December 11, 2018, completing a life full of accomplishment.
Bill was born on April 17, 1922 in Bloomington, Indiana. His parents were William Newton Potter and Edna Beryl Potter (nee Hinkle).
Bill was a physics student at Indiana University when the United States entered World War II. He enlisted in the army, and became a member of the Signal Corps. He served his country honorably through the war, spending 19 months overseas as a radar repairman in the 568th Signal Air Warning Battalion, a radar unit stationed in Hawaii. He was discharged with the rank of sergeant.
After the war, he completed his education, earning a BA in Physics and an MA in Astronomy at Indiana University. After a brief stint at the University of Michigan as a PhD student studying astronomy, he left college to work at the Naval Ordnance Plant, Indianapolis as a researcher. There he met Gertrude Jane Bayman. They were married in 1952, a marriage lasting over 52 years and producing two children, Paul William Potter and Janet Carol Potter.
He returned to Michigan to work as a researcher at Willow Run Laboratories. Bill then worked for many years as a research scientist at the University of Michigan's Radio Astronomy Department. While working there, he was the principle scientist for the proposed but never-built Kilometer-Wave Orbital Telescope, analyzed spectrographic data from the IMP-6 satellite, and helped develop the mass spectrometer flown aboard the Galileo satellite's entry probe.
He participated in the early development of the computer, as a graduate student, research assistant and researcher.
Bill was a long-time member and active support of the Methodist Church, the Boy Scouts of America (where he served many years as an adult leader in Michigan and Indiana), and Noon Optimist club. He was also a long-time member of the Wabash Valley (Indiana) Astronomical Society and a member of the JSC Astronomy Society.
Bill was preceded in death by his wife, Gertrude Jane Potter, and daughter, Janet Potter Lardas. He is survived by brother Ken Potter, son Paul William Potter, son-in-law Mark Nicholas Lardas, three grandsons, Nicholas Kyle Lardas, William Mark Lardas, and Benjamin John Lardas, his granddaughter-in-law Pilar Mondragon Lardas, his great-granddaughter Janet Rose Lardas, and numerous nieces, nephews, and cousins, and in-laws.
A visitation will held be Tuesday, December 18, from 6:00 to 8:00 PM, at the Crowder Funeral Home in Webster. TX. A funeral service will be held Wednesday, December 19, at 10:00 AM, at the League City United Methodist Church.