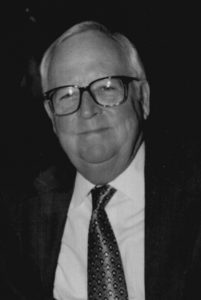 William "Bill" Diez, Jr.
Was born November 28, 1925 and peacefully departed this life on November 6, 2017, just shy of his 92nd Birthday.
Born in Los Angeles, CA, Bill's parents relocated to the Panama Canal Zone in 1928, where his father worked as an electrician on the construction of the Panama Canal.  Bill took great pride and interest in his father's participation on this historic and monumental project.  Bill described his childhood as an amazing experience.  He derived great pleasure in telling many a young child about growing up in Panama and in particular how he had to navigate his way through the jungle by riding the backs of crocodiles when the school bus couldn't navigate the flooded roads.
Upon his completion of Balboa high school in 1943, he took summer job with the Special Engineering Division, working on the proposed Third Locks System.  In August of 1943 he started C.Z. Junior College where he studied basic engineering, drawing and design.  After graduation, Bill enlisted in the U. S. Army Air Force in 1944.  Stationed at Albrook Field Canal Zone, Bill worked as an auto equipment mechanic and achieved the rank of Sargent before being honorably discharged on February 26, 1946. From Panama Bill moved to Stillwater Oklahoma where he completed his degree in Mechanical Engineering at Oklahoma A & M (OSU) Go Cowboys!
After a short stint working for IBM in Tulsa, OK he resigned and began his longtime employment with the Dowell Division of the Dow Chemical Company in Kansas City, KA.  Bill lived in various cities throughout the U.S. as well as Mexico City, Cartegena, Spain and Brazil.  While employed with Dow, he was instrumental in founding the local Sam Houston Chapter of IMI in 1966.  He served as chapter Secretary, President and Chairman of the Board in the early 1980's.  Several years later he repeated his assignment as Chapter President and Chairman of the Board and continued to serve on the Annual Show and Conference Committee.  Bill retired as the Regional Manager of DIS in 1982 after 30 years, 6 months and 15 days of service. He continued to work as a self employed consultant from 1984-86.  Bill then worked part time, on an as needed basis, for Altair Strickland Co., Inc. until he finally fully retired in 1988.
Bill met the love of his life, Rosemary Myers, in Tulsa, Oklahoma after being set up on a blind date by mutual friends.   Bill and Rosemary married in 1974 and he relocated Rosemary and her teenage daughter to Clear Lake City, lucky man….
Bill also had another love, Jazz music.  The love for all things jazz quickly infected Rosemary and the house was usually full of music most evenings, along with a few Leon Redbone tunes thrown in for good measure.  Frequent bouts of dancing were rumored to have occurred across the living room floor. Bill and Rosemary spent time traveling to Jazz festivals throughout the country, meeting up with good friends and stopping to visit others along the way.  They were blessed to have had so many meaningful friendships. Also, they loved to entertain, especially in their backyard. Many children learned to swim, dive and walk on Papa's shoulders, all the way to the deep end!  Not to mention, that copious amounts of beer and bar b que have been consumed by grateful family and friends, also in aforementioned back yard.
Bill was preceded in death by his parents, William and Margurite Lansing Diez, his half sister, Marguerite Rutherford.  Bill is survived by his loving wife of 43 years, Rosemary Diez, sister, Gretchen Evans, son William Diez and wife Renee.  Step sons, Steve Myers, wife Sharon. Jeff Myers, wife Deanna and stepdaughter Karen and husband Joe as well as many cherished grandchildren, great grandchildren, niece and nephews.
Bill's last wishes were to die in his own home and leave feet first.  He was blessed to have had that wish fulfilled. The family would like to extend their appreciation to Narva Wilson, his longtime caregiver for her love and tender care.  They became good friends and watched many old Westerns together.  Those two never met a Western they didn't like. They shared many laughs, thank you Narva for that.
There will be a gathering of friends and family at a later date to be determined. Aforementioned event most likely will be accompanied by copious amounts of beer and bar b que and wine for the ladies.  Thanks for the memories Bill.