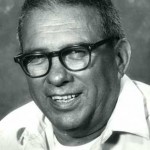 Wilfred Henry Leining, 84, resident of Santa Fe, Texas passed away March 28, 2014 in Webster, Texas. He was born December 27, 1929 in Dickinson, Texas to parents Michael and Margaret Leining. He was a member of Our Lady of Lourdes Catholic Church. He served in the U.S. Army during Korea and was a member of the American Legion Post #554. He worked for Amoco Oil Company for thirty seven years. Wilfred was a lifetime resident of Dickinson and Santa Fe.
He was preceded in death by his parents and grandson, Steve Leining.
He is survived by his sons, David Michael Leining, Sr. and wife Michelle, Thomas Walter Leining and wife Sherry, Gerald Wayne Leining and wife Susan; sister, Nina Marie Knight; two nieces; seven grandchildren and many great-grandchildren.
Visitation will be held from 5:00 p.m. – 6:30 with a Rosary beginning at 6:30 p.m. Sunday, April 6, 2014 at Crowder Funeral Home in Dickinson, Texas. Funeral Mass will be held at 10:00 a.m. Monday, April 7, 2014 at Our Lady of Lourdes Catholic Church in Hitchcock, Texas. Interment will follow at Mt. Olivet Cemetery in Dickinson, Texas. Serving as pallbearers will be Thomas Leining, Joe Leining, Brian Leining, David Leining Jr., Stephen Wild, Jimbo Anderson, and Al Rothfuchf.
In lieu of flowers, memorial donations may be made to Our Lady of Lourdes Catholic Church, 10114 Hwy 6, Hitchcock, TX 77563 or the charity of your choice.