Wilbert "Buddy" H. Blank, Jr.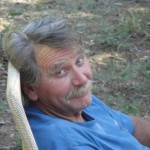 Wilbert "Buddy" H. Blank, Jr., thirty eight year resident of Santa Fe, Texas, passed away June 22, 2014 in Nassau Bay, Texas. He was born June 29, 1952 in Houston, Texas to parents, Wilbert H. Blank and Edna Blank.
He served in the U.S. Army during the Vietnam War. He was a member of Faith Lutheran Church in Dickinson, Texas. He retired from LBC-Houston after thirty eight years of service. Buddy was an outdoorsman and enjoyed fishing, traveling, and working in the yard. He took care of his family and would always do the right thing. (WWBBD?)
He is survived by his wife Sharmon Blank; daughters, Tiffini Blank and Michelle Grassmuck and husband Richard; sister, Sandra Fletcher and husband Sonny; brothers, Kenneth Blank and wife Debra, and Ronald Blank; and grandchildren, Michael Anthony and Kirstin Nikole.
Visitation will be held from 6 p.m.-8 p.m. Wednesday, June 25, 2014 at Crowder Funeral Home in Dickinson. Funeral services will be held at 6 p.m. Thursday, June 26, 2014 at Crowder Funeral Home, Dickinson.