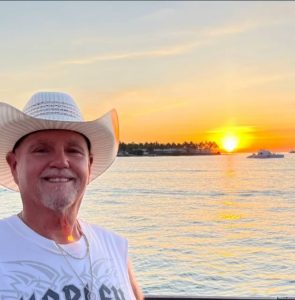 On Monday, November 7th, 2022, Wess Mathew Jackson peacefully departed this world in the comfort of his home in Dickinson, Texas, surrounded by his beloved family. He was born in Texas City, Texas, on June 25th, 1959, to Houston Elmer Jackson Sr. and Shirley Ann Reagan. He lived a life of love, cherishment, and honor. He had a heart of gold that could melt in an instant. He was a hard-working man who always made sure his family was taken care of. He enjoyed time spent with family and friends as well as, fast cars, fishing, traveling, off-roading, and riding his motorcycles. He knew the beauty of life and endured every moment. He had beautiful, blue eyes and a smile that could brighten the lives for all who see it.
Wess is preceded in death by his parents, his wife, Kimberly Jean Jackson, sister, Nina Paulette Jackson and brother, Dean Jackson. He leaves behind to cherish a life well lived, daughter, Ginger Rae Jackson; two sons, Trevor Scott Jackson and wife, Tabitha Kahla and Ronald Mathew Jackson and wife, Staci Amos; sister, Amy Ruth Randall; brother, Houston Elmer Jackson Jr., nine grandchildren, Jonathan Jackson, Bradley Jackson, Zachary Jackson, Nina Jackson, Jase Jackson, Sean Amos, Angeline Jackson, Gabriel Sandoval, Sophia Sandoval; one great-grandchild, Paisley Jackson and many other friends and family members.
Let there be comfort in your heart to know that Wess has been reunited with the love of his life, Kimberly Jean Jackson. A love so passionate can truly transform a day of sorrow into a day of celebration. Wess and Kim have been inseparable ever since their eyes met 42 years ago. Wess became grief stricken with a broken heart this past December as his wife unexpectedly passed, leaving him lost without her. His heart has now been mended with her love once again as they hold hands and watch over the family they created and their many of friends.
In his honor, there will be a visitation on Sunday, November 13, 2022, from 12:00pm to 1:00pm at Crowder Funeral Home in Dickinson, Texas. A funeral service will follow at 1:00pm.