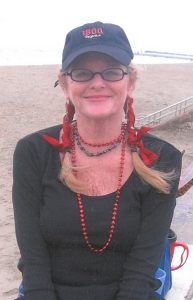 Wendy Lynn Martin, 63, a long time resident of Houston, TX passed away on February 6, 2020 in Houston, TX. Wendy was born on October 26, 1956 in Norfolk, VA to Wendyll and Myrtle Walker.
Wendy is preceded in death by her parents.
She leaves behind her daughter, Bethany Foster; son, Dusty Martin, wife Stephanie; lifelong friend, Hollis Price, Jr.; grandkids: Chloe Hunter, Avery Foster, Jaiden Martin, Keiran Martin and Eva Bialobos; sisters: Carla Walker and Susan Cobos; brother O'Neil Walker.
Wendy had a very generous soul. She was always better at giving than receiving. She would give anyone anything. She was a huge lover of animals. She was a mother to more than just her kids. She cared for and took care of anyone her kids brought home. Most kids bought home stray animals but hers brought home teenagers and she loved each of them dearly. She also cherished her best friend Hollis- whom she couldn't have possibly lived without.
There will be a memorial service on Saturday, February 15, 2020 at 2 p.m. in the chapel of Crowder Funeral Home, 2422 E. Broadway St, Pearland, TX 77581.