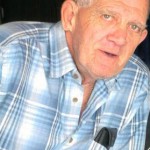 Wayne Richard Funke, of La Marque, passed away on April 5, 2014. He was born on September 13, 1939 in Galveston, Texas to Frances and Carl Funke, Jr. Wayne was a family man; his life was for his family and he would do anything for them. One of Wayne's favorite past times was going to Louisiana with his wife, Belva, to play the slots. He was a laid back and easy going man who was always comfortable with himself.
Wayne is preceded in death by his mother and father. He is survived by his loving wife of 52 years; Belva Funke, his daughters; Cynthia Sifuentes and her husband Frank, and Pam Davis and her husband Ricky, his son; Kevin Funke and his wife Jennifer, his brother; Carl Funke , his grandchildren; Eric Sifuentes and his wife Lilly, Alex Sifuentes and his wife Kristen, Tiffany Davis, Alyssa Sifuentes, Abram Davis, Abby Funke, Emma Funke, and Nathan Sifuentes, and his great-grandchildren; Khloe Sifuentes, Eric Sifuentes, Jr., and Landon Sifuentes.
Visitation for Mr. Funke will be held at the Living Faith Assembly of God in La Marque on Tuesday, April 8, 2014 from 5:00pm to 8:00pm. A service will be held at the church on April 9, 2014 at 2:00pm with Robert Faust, Daniel Silva, and Jeremy Silva officiating.
Pallbearers will be Stephen Schuenke, Elliot Ware, Willis Yancey, Alex Sifuentes, Eric Sifuentes, and Jimmy Yancey. The family would like to extend a special thank you to Carolyn and Willis Yancey for all of their love and support.