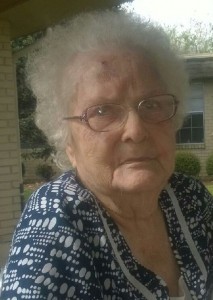 Wardean Nance went to be with our Lord on April 4, 2016. Wardean was born in Ethel, MS March 27, 1919. She moved to Pearland, TX in 2011.
Mrs. Nance is preceded in death by her two husbands', Luther Brett and Oscar Nance; 6 children: Sammie Brett Simmons, Dorothy Brett Ross, William (Billy) Brett, Roger Nance, Robert Nance and Romonia Nance Arrington.
Our Beloved is survived by her children: Sara Brett Hammack and husband John, Luther (Buddy) Brett 3rd and wife Adean, Patricia Brett Miller, Guy Nance, Doretha Nance Brown; and many grandchildren, great grandchildren and great great grandchildren.
A memorial will be held on Friday, April 8, 2016 at 2pm in the chapel of Crowder Funeral Home in Pearland.
In lieu of flowers, please make memorial contributions to: Sagemont Church, 11300 South Sam Houston Pkwy E, Houston, TX 77089 or to your favorite charity.