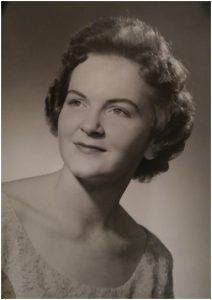 Seventy-nine years ago Wanda was born in north Mississippi into the Brackeen family. She went home to be with her Lord and Savior on December 9th, 2016; being freed from Alzheimer's that had plagued her for the past six years.
Growing up, Wanda endured all of the classical redhead comments. Throughout high-school she was active with piano (often performing rhythm contests with her father) and enjoyed playing for quartets.  She also played trumpet in band and exhibited her father's registered Jersey cattle; winning numerous blue ribbons at the Tishomingo county fair, especially with "Fairy" her favorite heifer.
Wanda met Ned sixty years ago during their 2nd semester freshman year in college—on a blind date, where he attempted to impress her with his ability to perform Rhapsody in Blue on the recreation room piano.  This became their "special" piece over the years.  They were married in 1959, after graduation, and moved to New Jersey, where Wanda taught high-school home-economics; keeping the children spellbound with her southern accent.
Wanda and Ned left New Jersey in 1966 to be closer to their families. Wanda's mother then came to live with them in Huntsville, Alabama, and was cared for by Wanda for the next 25 years.  In 1971 the entire family (Ned, Wanda, Momo, Keith, Mark, and Melody) moved to Houston where Ned helped start the Space Shuttle program.
In 1983 she was appointed municipal judge for Taylor Lake Village and served in that capacity for 22 years. When asked by the mayor to accept this position, she consulted with Ned and the children as to whether or not she should do it.  Keith, her oldest son replied, "Well mom, you've been judge and jury over us all our lives, so Go for it!"  Her court experience ranged from a serious murder case in Seabrook to such matters as unintentionally making the lady cry who was the voice of "Elsie the Borden Cow"; sending a woman home to change into decent attire acceptable for court; and instructing a young man on proper court language when the father told him he didn't have to say "Yes Ma'am to no woman!"  And even poor Ned could often trigger her when he was scolded for a bad pun, responding with "Yes, your honor!"; receiving her stern look that was usually reserved for the misbehaving kids and for minors in court.  It was during this time that Wanda became a breast cancer survivor.
Wanda's hobbies included genealogy, needlework, and "antiquing" at garage sales; often reviving destitute furniture. She was active in the DAR, UDC, and her music and home economics fraternities.  She led a children's choir at church in Huntsville and an adult choir in Pearland.
Wanda exhibited the strength of an amazon when helping the children with projects; Mark would often plead, "Mom, can we finish this job before we start another?" This trait was passed to Melody, who often has numerous projects going simultaneously.
For her last two years Wanda resided at the Light Heart Memory Care Alzheimer's home. She is survived by her husband Ned, her children Keith, Mark and Melody, and five grandchildren.