Walter Harold Kistler, Jr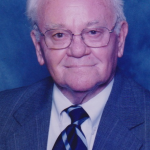 Walter Harold Kistler, Jr., passed away peacefully at home on Saturday morning, February 15, 2014. He was born on May 24, 1927 in Charleston, West Virgina to Walter Harold & Florence Clementine Kistler. He is survived by three children; Linda Hurley (husband Joe) of League City Tx, Laura Fontenot of Houston Tx, Larry Kistler (wife Tracie) of Friendswood Tx, six grandchildren; Christopher Stephens (wife Meagan), Chelsea Fontenot, Zachary Kistler, Nicholas Kistler, Aron Miller, and Matthew Hurley, four great grandchildren; Elijah Fontenot, Olivia Stephens, Natalie Stephens and Brandon Morse.
Harold graduated from Stonewall Jackson High School in May, 1945. After graduating from high school he enlisted in the Army in May, 1945 and was honorably discharged in June, 1947. On January 22, 1949, he married his long time sweetheart Cora Elizabeth Rowland at Trinity Lutheran Church in Charleston, West Virginia.
Harold was a graduate of Morris Harvey College, now known as University of Charleston with a Bachelors in Business. After college he obtained a job with Union Carbide in Charleston and later the family moved to Houston, Texas in 1972 where he received many awards and recognitions for his contributions to their Logistics program. He enjoyed a long and fulfilling career where after 39 years of service he retired and he and Cora continued to live in Houston.
Harold was long standing member of Gloria Dei Church Lutheran Church. He loved to spend time with his family, golfing , watching baseball (Go Braves!), watching West Virgina basketball and volunteering in his community. He participated in his church, volunteered with Interfaith Caring Ministries; delivering food to the Senior's and volunteered teaching children to read.
Harold's final days were plagued with Parkinson's Disease and other various medical challenges. Harold was brave, tenacious, and tough through all he endured. His children, grandchildren, and everyone who knew him were inspired by his constant push to overcome the obstacles and challenges of this disease.
The family wishes to express gratitude to all the Altus Hospice staff and to all those who helped Harold and our family through this difficult time.
He touched the heart of everyone he met and always made you smile as he never met a stranger that he didn't have something to say or talk about. Harold will be greatly missed.
Visitation from 6 – 8 pm Tuesday at Crowder Funeral Home in Webster. Service 10:30 am Wednesday at Gloria Dei Lutheran Church.