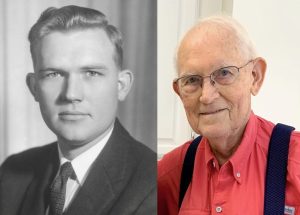 Walter Donald (Don) Fike passed away on Thursday, September 15, 2022 at Thomas Manor Senior Living in Friendswood, Texas. He was born in Parrish, Alabama on September 6, 1930 to Walter Henry Fike and Kenny Belle Fike. He was preceded in death by his parents, 4 siblings including his sisters Lois Odom and Fay McLeod Silcox, his grandson Jarrod Fike and his nephew James McLeod. He is survived by his wife, Bonnie Fike, his sons Barry (Connie), Paul (Lynne) and Byron (Liz), his nephew Don (Nelta) McLeod), his grandchildren Brandon (Cherry), Beverly, Whitney, Jeremy (Adrienne), Benjamin (Laura), Elizabeth (Jaime) Arizpe, Kelley (David) Young, Evan, Jason (Kim) McLeod, Shannon (Jeff) Taylor, 22 great grandchildren and numerous extended family and friends.
Don earned a bachelor's degree from Harding University and a Masters of Arts and Religion from Harding School of Theology. He worked as a full-time minister for Churches of Christ in Alabama, Arkansas, Kansas, Massachusetts, and Colorado. After retirement Don and Bonnie traveled to many foreign nations to work with mission churches. Don was passionate about his family, preaching the Gospel of Jesus, and discipling new believers. He loved playing with his grandchildren and great-grandchildren and watching University of Alabama football.
A memorial will be held at Clear Lake Church of Christ, 938 El Dorado Blvd, Houston, TX 77062 on Saturday, September 24 at 10am. It will be livestreamed on YouTube. In lieu of flowers memorial donations can be made to a scholarship Don and Bonnie established to honor their parents: Harding School of Theology Fike/Cropper Scholarship.