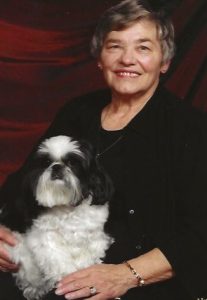 On Saturday, April 29, 2023, Wally Herald, loving mother of two children, passed away at age 82.
Wally was born on Nov 18, 1940 in Melvin, Ky to Ballard and Beatrice Jones. She married William Herald in 1958 and her children, Richard and Jeffery were born while her husband was a student.
After graduation, she and the family moved to Ohio settling in the Dayton suburb of Centerville where her husband Bill worked as a chemical engineer, and she lived for 57 years.   She was a fixture in the neighborhood, hosting children with activities and was a local Cub Scout Den Mother.   Generous to a fault, she provided her sons with a childhood filled with love and the best education possible.  She recently relocated to Houston, TX near her immediate family.
Wally was preceded in death by her husband Bill, her father Ballard and mother Beatrice, bother Ballard Jr, and her son Jeffery. She is survived by her eldest son Richard Herald, Granddaughter Melissa Haran and Great Granddaughter Goldie.
A private service will be scheduled at a later date.