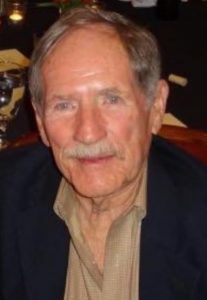 Wallace (Wally) D Curry, 85, beloved husband, father, grandfather and great-grandfather, passed away Monday, the 25th of March, 2019, at his daughter's home in Houston, surrounded by family.
He was preceded in death by his parents Ouida Francis Hebert Curry and Jack Houstes Curry.
He is survived by Joy, his loving wife of 66 years, son Derrell Curry and his wife Kathie, daughters Gay Curry Holt and her husband Will, Kelly Bailey and her husband Randy, Anne Sitka and her husband Tim, grandsons Zack Curry and his wife Marisa, Christopher Curry and his wife Laura, Mitch Curry and his wife Ramsay, Wil Bailey and his wife Lissa, granddaughters Krista Roventini and her husband Mike, Amber Osborne and her husband Zach, Alexis Bailey, Alaina Sitka, and 10 great-grandchildren. He is also survived by his sister Jackie Rhodes and her husband James, half-brothers Joe Abercrombie and Ronnie Curry and his wife Liz, along with numerous nieces and nephews.
Wally was born in Beaumont, TX in 1933. He grew up there, reared by his loving, dear mother and her large extended Catholic family. He attended South Park High School in Beaumont where he met Joy, the love of his life. He made many life-long friends who were in contact with him throughout his illness. After high school, Wally and Joy married on April 4, 1953. He was called to join the Army, serving proudly until his honorable discharge from Ft. Bliss, TX on October 27, 1955. Wally worked at the Houston Post as a production supervisor. While there, Wally went back to school and obtained his Associates Degree at San Jacinto College. After the Post shut down in 1995, he obtained his real estate license and joined Joy in residential sales.
Wally was active until he couldn't be anymore. He loved being on the golf course and tennis court and he loved wade fishing in the surf in Galveston. Having family with him only made those activities sweeter. He loved being on the Comal River with his grandchildren or cheering them on at their sporting events. His love of sports has been passed down to his children, grandchildren and great-grandchildren.
Wally never met a stranger. He was fun-loving, kind-hearted and compassionate. He was adored by all who came to know him.
Wally loved Joy, caring for her as her illness progressed. He fought his own illness with strength and courage. Wally instilled the importance of family to his children and grandchildren. Every opportunity to be together was, and will continue to be, a celebration of love.
The Family is forever grateful for the devoted care received from Latasha Washington, Toni Castillo, Odelia Ernst, Misha Green and Deborah Spencer.
Memorial Services for Wally will be at 11:00 AM, Friday, April 5, 2019 at St. Clare of Assisi Catholic Church, 3131 El Dorado Blvd, Houston, 77059 with a brief visitation beginning at 10:30 AM.
In lieu of flowers, the family requests memorials be made to the Parkinson's Foundation (Parkinson.org) or Galveston Bay Foundation (galvbay.org or 281-332-3382).