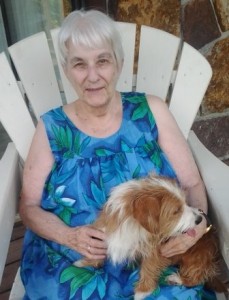 Vivian Georgia Just, 81, passed from this life into her eternal life with our Heavenly Father on Friday, November 13, 2015 at her long time residence in Hitchcock, TX.
She leaves behind her two daughters, Susan Just of Hitchcock, TX and Lydia Hicks of Santa Fe, TX. Her Son- In- Law, Dale Hicks, and her grand¬son Ryan Ramirez of Webster, TX, and 4 great grandchildren Dominic Ramirez of Kemah, TX, Brianna Jones of Santa Fe, TX, Gerald and James Hicks of Santa Fe, TX as well as several nieces, nephews, and cousins. She is preceded in death by her loving husband of many years Delmore J. Just.
Vivian's story began in Crandall, SD. She at¬tended Sumner Schools where she met her long time best friend Joan Dunagan. With the help of Audrey Anderson, the three of them became a dynamic trio. After high school, she married a handsome U.S. Army ser¬viceman that she met at a USO Dance at age 18 and within a few years moved to Texas. She worked for 20+ years at Galveston Community College in the Business Office as an Executive Assistant where she retired. She enjoyed cross-stitch and needle¬point, reading, the TV shopping channels and chocolate. She was a true cat person, and every cat knew of her love for them. Vivian was a self¬less person. She was a devoted wife and mother who will be missed by her family each day. Vivian was a delight to everyone who knew her. Her family and friends will never forget her generosity and compas¬sion, her devotion to God and family, her wonderful sense of humor and her positive outlook in every situation. She was famous for quoting, "This too shall pass."
A graveside service will be held on Saturday, November 21, 2015 at Hayes Grace Memorial Cemetery at 10AM in the Garden of Everlasting Life, Pastor Robert Dowdy officiating.