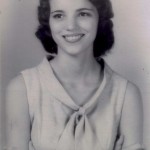 Viola Laverne Earles, 73, of Alvin, TX, passed away May 20, 2014. She was born September 5, 1940, to Irvin and Edna McKenzie in Cameron, TX. Laverne was a medical secretary for UTMB – Galveston. She was preceded in death by her parents; sister, Erva Lee White; and brother, George Winfred McKenzie.
Laverne is survived by her loving husband, Larry G. Earles, Sr.; daughter, Laurie Laverne Eckhart and her husband, Wade; sons, Larry G. Earles, Jr. and his wife, Debra and David L. Earles; sister, Betty Wanda Morris and her husband, Perry; grandchildren, Amy Crowder, Daniel Earles, Nathan Earles, Joshua Earles, Natalie Earles and Zachery Earles; and seven great grandchildren.
A Visitation will be held Friday, May 23, 2014, from 2:00 to 3:00 pm with funeral services at 3:00 pm, Crowder Funeral Home Chapel, Dickinson, TX.
Honored to serve as pallbearers are Nathan Earles, Daniel Earles, Nathaniel Lopez, Joshua Earles, and Zachery Earles.