Victor "Vic" Paul Kelemen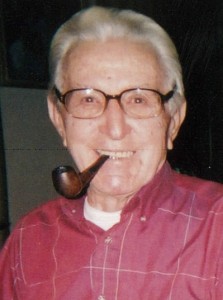 Victor "Vic" Paul Kelemen, 92, passed away April 15, 2015, surrounded by his beloved family.   Vic was a lifelong resident of Galveston County.  He was born in Galveston on January 20, 1923.  He was raised in Hitchcock and spent his early years there as well.  Following his service in the U.S. Army during World War II, he returned to Galveston and along with his brother, Charley opened Coastal Glass.  However, just prior to that, he married the light of his life, Eva Mae Zuspann.  This year marked 70 years of their time together as husband and wife.  After the time he was in business with his brother, he joined Monsanto Chemical Company in Texas City and worked there as a chemical plant operator for 33 years.  In the aftermath of hurricane Alicia he and Eva Mae moved back to Hitchcock and they lived there until they moved to Friendswood where he spent his final years.
Vic was an avid angler who loved fishing, and particularly floundering with his family and friends.  He was also a true sports fan who loved his Houston Astros and Texas Rangers.  He and Eva Mae loved their two sons, Ronald Wayne Kelemen and Victor "Paul" Kelemen Jr.  They supported their sons in all that they pursued and accomplished, and were so very proud of them.  Vic was a member of Our Lady of Lourdes Catholic Church and a member of the Knights of Columbus.
His parents, Matthias Kelemen and Theresa Perusichs; and his brothers, Antoine, Rudolph, Charles, Frank, Emil (Cotton), and Johnny Kelemen preceded Vic in death.  His sisters, Elizabeth Kelemen Taylor, Theresa Kelemen Hepler, Pauline Kelemen Oldham, and Catherine Kelemen Crane also preceded him in death.  Survivors include his wife Eva Mae, sons Ronald Kelemen and his wife Patricia, and Paul Kelemen; six grandchildren and two great-granddaughters; and numerous nieces and nephews.
Vic's family will receive visitors from 5:00 – 7:00 p.m., Friday, April 17, 2015, at Crowder Funeral Home in Dickinson Texas.  There will be a private family service with interment following.  In lieu of flowers, the family requests that donations be made to either Our Lady of Lourdes Catholic Church or the charity of your choice.