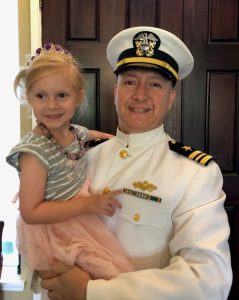 LCDR Victor Martinez, 49, passed away on January 16, 2023, in Nassau Bay, Texas. He was born on January 11, 1974, in McAllen, Texas, to Victor and Noelia Martinez. Victor is survived by his wife, Erin Downing Martinez and daughter, Emma Noelia, his brother Guillermo (McAllen, TX), and father Victor Martinez (Houston, TX).
Victor joined the Marines at age 19 and served for 5 years (1993-1998), rising to the rank of Corporal. After leaving the Marines he served in the Marine Reserves and the Army National Guard while attending college. For the past 14 years Victor has served in the Navy Reserves as a Seabee primarily with the Naval Mobile Construction Battalion 28 and had an assignment as a Seabee delegate to NATO. He joined the Navy reserves as a CE3 in 2003 and was advanced to rank of CE2 in 2007. In 2008, he was commissioned as an officer.  He had attained the rank of Lieutenant Commander at the time of his death. Victor was deployed to Djibouti and Iraq while serving in the Navy Reserves. He also volunteered for Navy overseas duty in Italy for 6 months and spent 4 months in Maryland at the Naval Air Station Patuxent River facility. His achievements include designation as a Seabee Combat Warfare Officer (SCW), 4 Navy Achievement Medals, and MOVSM (The Military Outstanding Volunteer Service Medal).
Victor graduated from the University of Texas Pan American with a degree in electrical engineering.  He joined United Space Alliance (NASA contractor) as an electrical engineer where he worked in the SAIL (Space Shuttle Avionics Integration Laboratory) for 7 years. Victor was later employed by National Oilwell Varco and was most recently employed by the Naval Air Station Patuxent River in the Public Works Department.
Victor enjoyed travel, his family, military history and military memorabilia.  He was always interested in serving his country, helping others and took great pride in participating in military funeral honor guard ceremonies.
A Memorial Service will be held on Friday, 20th January 2023 from 4-8 pm at Crowder Funeral Home, 111 East Medical Center Blvd., Webster, Texas 77598. In lieu of flowers, those wishing to make a memorial donation in Victor's memory may do so to the Gary Sinise Foundation, which has a variety of programs to help wounded military veterans (garysinisefoundation.org).