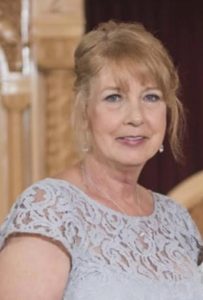 Vickie "Diane" Poynter, 63, a lifelong resident of Pearland, TX and surrounding areas, passed away February 15, 2023 in Pasadena, TX. Diane was born in Houston, TX, May 24, 1959. She married the love of her life, Larry, right after high school in May 1978.
Diane reunites with her husband, Larry W. Poynter; parents, Louis Wallace Sr; James and Alvis Dean; and brother, Eddie Wallace.
She leaves behind her daughters: Sarah Carroll, husband Dustin, and Rachel Lagos, husband Gus; son, Larry Poynter; grandchildren: Bailey Poynter, Joseph Lagos, Savanah Miller, Nikolaos Lagos, Catherine Lagos, and soon to come, Dakota Carroll; and brother, Tommy Wallace.
A visitation will be held from 1:30 p.m. to 3:00 p.m., Sunday, February 19, 2023 with a service to begin at 3:00 p.m. in the chapel of Crowder Funeral Home in Pearland. Burial to follow at Manvel Cemetery in Manvel.
Pallbearers will be, Larry Poynter, Gus Lagos, Dustin Carroll, Kyle Kreft, David Love, and Brandon Wallace.