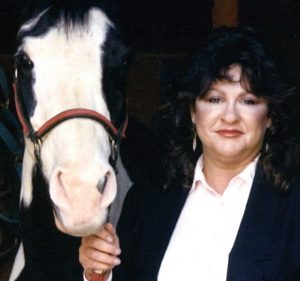 Memorial Service for Vi Ann Hall Saturday July 10, 2021 at 3:00PM.
Amy, Christy, and Robin would like you to know that the music you were listening to while entering into the celebration of their mom's life was Vi Ann performing with her late husband Herb Jimmerson as international recording artists Paradise Express.  The three girls grew up watching their parents work hard to make a life in the music industry that many do not succeed in, but they did.
Our Mom started her entertainment career at the early age of 2 performing with her grandfather's circus the Kelly-Miller Circus.  As she grew older, music and performing were a part of her life through high school playing in the Central High marching band.  Continuing after high school playing with her parents and forming her own bands in Cape Girardeau, Missouri.
Her love of horses and animals never waned while she was growing up and as she got older.  She told many that even being on stage performing to thousands she just wanted her land and horses.  Her dreams came true when she moved to Riverside, CA and there she had started working and formed the Riverside Trails Group.  She continued on with her love of the land and animals joining the Riverside Posse with the Riverside Sherriff's Department.  During this time, she joined the Disneyland Mounted Patrol and worked there until moving back to Missouri.
Vi Ann moved to Texas in 2002 after visiting her daughter's family.  She loved the friendliness of the Texas spirit.  She thought people in the stores were being paid to be nice to her so her daughter would convince her to move here, Amy replied "this is Texas, that's how they are here".  She never looked backed after moving here with her pride and joy Choctaw.  She immediately became involved with her fellow riders in her home of Santa Fe and eventually joining the Texas Independence Trail Riders Association. She loved preparing all year for her weeklong trip for the Houston Livestock Show and Rodeo Trail Ride.  Her passion was her horses and being with other cowboys and telling stories around the campfire at many trail rides she attended, set up with her tequila table waiting to share a shot.
She is preceded in death by her husbands, Herb Jimmerson and Thomas Hall, and her infant son Mark William Jimmerson, and her brother Larry Lucas. She leaves behind her sister Monta Sue Richardson and brother Eddie Keys, three daughters Amy, Christy and Robin, four grandchildren, Erin, James, Stephen, and Collin and two great-grandchildren. She loved her horses, her donkey and countless 10 chickens and 8 ducks on her property that she worked so hard to keep and share with her family.  She had the heart and strong will to live and continue to be with her animals.  It brings us comfort knowing that she is now in the happy hunting ground with her horses that proceeded her Apache, Chica and Choctaw.
You can listen to Paradise Express on YouTube.com.