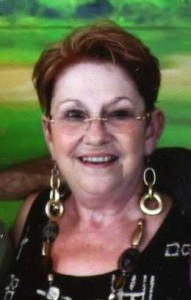 Veronica Sue Weiser of Texas City,  passed away February 21, 2015 in Webster, Texas. She was born June 28, 1944 to Aswell and Viney Vizena in Oberlin, Louisiana.  Veronica was preceded in death by her parents and by her brother Daniel Vizena.
She is survived by her loving husband of fifty-one years, Aaron Weiser; daughters Robin Holmes and her husband Darrell, and Stephanie Sickmen and her husband Walter; son, Aaron (Trey) Weiser III; sister Nelda Cobb; brother Rawlin Vizena; and grandchildren, Brittany Wehman, Matthew Wehman, Logan Holmes, Corey Holmes and his wife Cori, Kendall Holmes and Summer Weiser. Veronica loved her family and will always be remembered as a great wife, mother and grandmother.
A visitation in her honor will be held Tuesday, February 24, 2015, from 9:00 to 11:00 am, with funeral services at 11:00 am, Crowder Funeral Home Chapel, Dickinson, Texas with interment following at Mt. Olivet Catholic Cemetery, Dickinson, Texas.