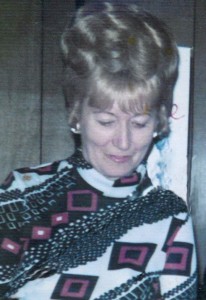 Velma Brown Warner, 93, of Webster, Texas slipped peacefully into Heaven on February 23, 2015. She was born June 10, 1921 in Herpel, Arkansas to Bergan and Rutilla Bright. Velma was a resident of Galveston County since 1928 and retired from Monsanto Chemical Company after 29 years of service. She was a member of Queen of Peace Catholic Church, Galveston Little League, serving as Auxiliary President for three years, active in youth football and pony colt baseball, a Boy Scout Den Mother, Girl Scout assistant and Tornette volunteer.
She was preceded in death by her parents, Bergan and Rutilla Bright, step-mother Maggie Bright, son Gregory Alan Brown, brothers Shearn Bright and Ivan Bright Sr., sister, Betty Gates, sister-in-law, Jean Bright and life-long friend Mildred Jordan.
She is survived by her daughter and son-in-law; Vicki and Richard Thomas of Pasadena, TX, grandsons Matthew Williams (Sammi) of Crosby, TX, and Trent Gibson of League City, TX,; Also surviving her are her two precious great-granddaughters, Abigail and Annabel Williams, and a host of family and friends.
Family was very important to Ms. Warner. She loved and cherished her children and adored her grandsons and great-granddaughters. Her extended family was very dear to her, to her include her nieces, Linda Wheatley (Mike), Sandra Stout(Stuart) and Cindy Gates, and nephews Ivan Bright Jr., (LouAnn) and Thomas Gates III (Vickie). She valued the love and friendship of her many life-long friends, with whom she shared happy memories.
Special thanks to her nieces and nephews for all their love and support these past few years.
Honoring her as Pallbearers are Ivan Bright Jr., Matthew Williams, Trent Gibson, Mike Wheatley, Robert Clarac, Thomas Gates III.
A visitation will be held at Crowder Funeral Home in Webster, Texas on Thursday, February 26, 2015 at 12:00Noon with the Funeral service to follow at 2:00pm. Burial will be at Grace Memorial Park Cemetery in Hitchcock, Texas.
Memorials may be made to MHMR-Gulf Coast Center, Texas City, Texas or to the Charity of your choice. Services are under the direction of the James Crowder Funeral Home in La Marque, Texas.