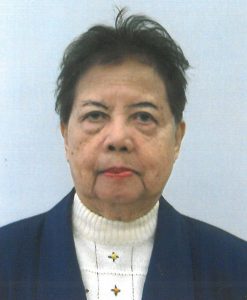 Trinidad Endeno Dimen, 76, B.S. Pharmacy 1963 Univ. of Santo Tomas, Manila passed away March 8, 2019 after receiving the Anointing of the Sick and Communion. Mrs. Dimen was born June 23, 1942 in the Philippines. She married the love of her life Newell Dimen in 1980 and have been married for 39 years. Mrs. Dimen worked for Joslin Diabetes Center in Boston, MA and other Medical facilities in MA, RI, IL and NJ. She has been a resident of Pearland, TX since 2008 and attended St. Helen Catholic Church. Mrs. Dimen was a member of The Third Order of St. Francis.
Mrs. Dimen is preceded in death by her parents – Magno and Maria Dimen.
Trinidad is survived by her husband Newell Dimen; sisters: Maria Paz and Lourdes Dimen; brothers: Salvador Dimen and Jose Dimen; and nephews and nieces.
There will be a visitation Thursday, March 14, 2019 from 5-8 PM with a Rosary to begin at 6 PM in the Chapel of Crowder Funeral Home, 2422 East Broadway St, Pearland, TX 77581. Funeral Mass will be held Friday, March 15, 2019 at 10 AM at St. Helen Catholic Church, 2209 Old Alvin Rd, Pearland, TX 77581. Burial to follow at Houston Memorial Gardens Cemetery, 2426 Cullen Ave, Pearland, TX 77581.