Trenton "T" Thomas Godfrey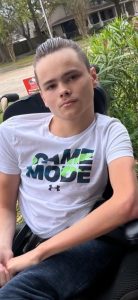 Trenton "T" Thomas Godfrey, 17, a resident of Deer Park, TX, formerly of Alvin, TX passed away on April 3, 2022 in Houston, TX. Trent was born in Webster, TX on May 1, 2004.
As many of you know, if you are willing and open to the experience, life can show you many things. In Trentons case, it reminded us all how to smile a little more….to appreciate a little more…and to understand the depth of how just much you as an individual, are capable of love. Because to know Trenton, if only a brief moment in this life, you could not help but to fall in love.
Despite his physical limitation, his heart was far bigger and more full than any normal mortal man. Trenton was a warrior, the true definition of determination, courage and a love for his people…and this was exemplified by how he loved those around him. With selflessness, strength, ferocity and yet with the gentle touch that only he could have provided….and a love that Trenton himself knew his family so very much needed.
Despite the battles he faced daily, his concern was not for himself, but for those around him. His ability to make everyone feel at ease, his sense of humor that made you laugh easier than you ever thought possible…so that when it was done, you walked away from Trenton feeling a better version of yourself than you did before. In his short 17 years on this Earth, he truly touched all those who knew him in so many lasting and wonderful ways.
And that was Trentons gift to this world. This is his legacy. That we were gifted with the opportunity to experience love and simple beauty in its purest of forms from a truly unique and amazing soul.
We are all better people for experiencing his life alongside him….and for this Trenton, we eternally thank you. You will never know the depth of your impact on our family, the people you touched and this world.
He is preceded in death by his father, Barry Godfrey; grandmother, Mary Salyer; grandfather, Randy Coffin, Sr.; grandparents, Glenn and Alice Godfrey; uncle, Ty Salyer.
Trenton leaves behind his mother, Christina Salyer, boyfriend Mark Cordes; father, Matt Salyer, girlfriend Kelsee Morgan; sister, Lilly Coffin; brothers: Tyler Godfrey, and Caleb Hutchinson; grandparents: Brent and Rita Salyer and grandmother, Cookie Long; aunts and uncles: Amy Coffin, Randy Coffin, Alex Coffin, wife Krystal, Mary Salyer, Roy Cannon, wife Candice, and Trisha Godfrey; and numerous cousins.
A visitation will be held from 5-8 p.m. on Tuesday, April 5, 2022 at Crowder Funeral Home in Pearland. Funeral service will begin at 10 a.m. on Wednesday, April 6, 2022 in the chapel of Crowder Funeral Home in Pearland. Burial to follow at Forest Park East Cemetery in Webster, TX.
Pallbearers will be, Matt Salyer, Randy Coffin, Alex Coffin, Tyler Godfrey, Preston Sullivan, Kelton Coffin, and Roy Cannon.