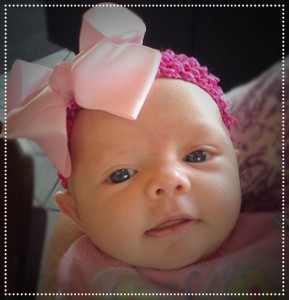 T'lynn Cate Evans was born in Houston, TX on April 17, 2015 and passed away June 28, 2015.  She was only 2 months old when she passed but forever has an imprint in our lives and hearts.
Baby T'lynn leaves behind her parents, Tim and Tiffany Evans; sister, Tessa Christine Evans, brother, Trinton Chase Evans; grandparents: Larry Joe Evans and wife Mary Ann of Texarkana, TX, Joseph C Wagner of Pearland, TX and Phyllis and husband Robert Sharp of Porter, TX; great grandparents: Mary Nell Evans of Texarkana, TX and Frankie Stroman of Atlanta, TX; uncles: Shawn Allen Evans and wife Jennifer of Texarkana, Joseph E. Wagner and wife Lisa of Pearland, TX and Pastor Donovan Burkett and wife Sherry of Weatherford, TX.
A funeral service will be on Friday, July 3, 2015 at 11:00 am at First Church of Pearland, 1850 E. Broadway St., Pearland, with Rev Mark Hughes and Rev. Jason Cahoun to be officiating. Interment to follow at South Park Cemetery.