Thomas "Tom" William Hartnett, Sr.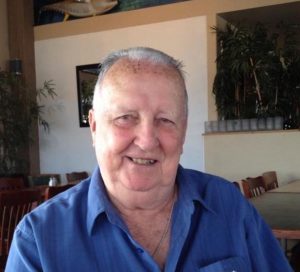 Thomas "Tom" William Hartnett, Sr. (85) of Santa Fe, Texas, passed away in Clear Lake on the morning of Friday, March 08, 2019, after a courageous battle with cancer.
He was a BOI, born in Galveston, Texas on July 7, 1933 to Mary Agnes and David James Hartnett. He was on the baseball team at Kirwin High School, graduating in 1952, and married Shirley McGehee in 1954. Formerly of Hitchcock, Tom lived in Santa Fe for the last 18 years. He proudly served in the United States Army and later worked until retirement as Material Handling Coordinator at both Monsanto Chemical Company and Sterling Chemical Company. Tom enjoyed being a Hitchcock Little League baseball coach for many years and served on the Hitchcock ISD School Board. He enjoyed staying active on the golf course and was the co-founder of the Crowder Golf Team. Most important to Tom was spending time with family. He was a loving and devoted father and grandfather. He was a member of the St. Mary of the Miraculous Medal Catholic Church in Texas City.
Tom is preceded in death by his mother, father, sister, Margaret Hartnett, and brother, Joseph Hartnett.  He is survived by his daughters, Brenda Hartnett of Santa Fe, Texas and Sandra Hartnett (Sherry) of Conroe, Texas; his sons, Thomas Hartnett, Jr. (Linda) of Missouri City, Texas, Stephen Hartnett (Karen) of Dripping Springs, Texas, and Craig Hartnett (Sandy) of Midland, Texas; his brothers, David Hartnett and Eddie Hartnett (Shirley); and his seven grandchildren, Jennifer Murphree, Josh Hartnett, Ginny Sturlaugson (Liessman), Miles Hartnett, Stephanie Hartnett, Arianna Czarnecki, and Samantha ("Sammie") Hartnett.
A Memorial Service will be held at 6:30 p.m. on Saturday, March 23, 2019, at St. Mary of the Miraculous Medal Catholic Church in Texas City (1604 9th Avenue N., Texas City, TX 77590), with a reception immediately following at the church's Ponzini Hall.  Military honors will be presented at Houston National Cemetery, Houston, Texas on Monday, March 25, 2019 at 1:30pm.
The family would like to extend their gratitude to Tom's caregiver, Maria Fonseca. In lieu of flowers, donations can be made to the charity of your choice.