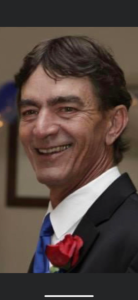 Thomas Patrick Small, 61, a resident of Dickinson, passed from this life on October 11, 2023. He was born in San Antonio, Texas on December 1, 1961 to parents, James and Betty (Sly) Small. Tommy was a loving and funny individual who will be deeply missed by his family and friends.
He leaves behind to cherish his memory, the love of his life Gail Small. His sons, Jason McConville, Eric Small and wife, Brandy and youngest son Nathan Small. Tommy had four grandchildren. Ambhyr, Abigail, Troy Small and Alana Hull. He had two sisters Debbie Jeffords and Sally Allison.
Tommy dedicated over 25 years of his life working as an electrician, demonstrating his commitment and expertise in his field. Outside of work, he had a passion for bowling, spending many enjoyable and not so enjoyable hours at the bowling alley. He also loved fishing with his dad, hunting with his sons and camping with anyone who would go with him.
In his honor, there will be a visitation on Friday, October 20, 2023 from 4:00pm to 5:00pm at Crowder Funeral Home in Dickinson, Texas. A memorial service will follow at 5:00pm. Please join us in remembering and celebrating the life of Tommy Small. He will forever hold a special place in our hearts.