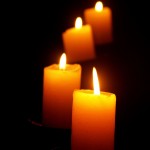 Thomas L. Romero
September 13, 1934 – November 23, 2016
Thomas was born in Ft. Collins, Co, the youngest of six children, to Juan De Dios and Martina Romero. The Franciscan Sisters at St. Clara's Orphanage, Denver, Colorado, raised him from the age of 2 years until he was 12 while his mother recovered from tuberculosis. The Sisters provided him with love, education and the basis of his Catholic faith, to which he remained devoted his entire life. He was a member of the Queen of Angels Parish, Dickinson, TX.
Thomas was predeceased by his parents, his sisters Beatrice and Charlotte, his brother Phillip. He is missed by his brothers Stephen and Patrick, numerous nieces and nephews and his lifelong friend Fargo Peterson.
Visitation and rosary will be held from 6-8 pm, December 1, 2016, at Crowder Funeral Home 851 FM 517, Dickinson, TX.
Funeral mass will be held at 9 am, December 3, 2016, at Queen of Angels Catholic Church on Dickinson, TX. with internment immediately following at Mt Olivet Catholic Cemetery, Dickinson, TX.