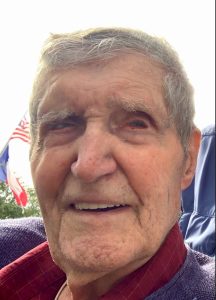 Thomas Jefferson Adams, a resident of Friendswood, Texas passed away peacefully on June 17th, 2022.
He was born on September 22, 1928, in Memphis, Tennessee to Thomas Jefferson and Evelyn Hogue Adams.  He was a graduate of Messick High School in Memphis and earned bachelor's and master's degrees from Louisiana State University (LSU).  While at LSU he was a member of both the football and track teams.
He received a military commission from the LSU ROTC program, and served in the Army at the Army Missile Command in Huntsville, Alabama.  He joined NASA in 1962 and worked at the Johnson Space Center from 1962 until his retirement in 1989.  He worked on the Apollo and Shuttle programs.
He is preceded in death by his loving and devoted wife of 69 years, Anita L. Adams, their three loving children Brad Adams (wife Phyllis) of Friendswood, Richard Adams (Gaylen) of Shoreacres, and Elaine (Tommy) Ebner of Friendswood.  He is also survived by granddaughter Amy Chism (Chris), grandsons Jake Ebner (Natalie), Clay Ebner (Nicole), Will Ebner (Jordan), and Bret Adams, step-grandsons Cory and Charlie Betros, great grandchildren Ryan Chism, Reese Chism, Reagan Chism, Jo Jo Ebner, Ross Ebner, Emma Ebner, Carson Ebner, and Tommy Ebner.  He was preceded in death by his parents.
He was a lifelong Presbyterian and a member of the Dickinson Presbyterian Church for many years, where he served as an Elder.  He was active in the Dickinson community, serving nine years on the Dickinson Independent School board and several years on the city's Planning and Zoning Commission.
In lieu of flowers please make a donation to your favorite charity.
A graveside service will be held for the family.