Thomas Jackson Burnett, Jr.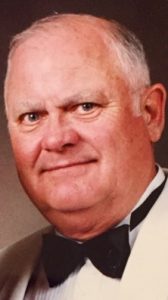 Thomas Jackson Burnett, Jr., of League City, TX, passed away on Friday, January 12, 2018, at the age of 83.  He was born on October 25, 1934, in Teague, Texas to the late Thomas Jackson Burnett, Sr. and Mary Elizabeth Marshall Burnett.  Jack, as his family and friends called him, was an avid sports fan, who enjoyed watching and following his favorite teams, especially those that involved his grandchildren.  Jack also enjoyed the outdoors, hunting and fishing, and playing golf throughout his life.
Upon graduation from St. Edward's University in Austin, Texas, Jack started his career in the oil and gas industry as a Petroleum Landman for Humble Oil (Exxon Oil and Gas) before assuming various Executive positions with Louisiana Land and Exploration Company.
Jack is preceded in death by both of his parents, his brother Marshall Burnett and sister Betty Jo Burnett, his daughter Barbara Burnett Alonso, his son Steven Burnett and grandchildren Chase Burnett and Kimberly Burnett.
He is survived by his wife Carolyn Michaud Burnett, and children, Tom and Jan Burnett, David and Yvette Burnett, Shannon and Kim Klipping, Kristopher and Gayle Klipping, Dawn and David Osburn and sister Mary Catherine Burnett Synder.  Jack had 10 grandchildren and 7 great grandchildren that were all dear to his heart.
Visitation Saturday, January 20, 2018, 1:00 PM at St. Lucy Catholic Church, Hodge, LA with a Mass at 2:00 PM and Interment at St. Lucy Cemetery immediately following Mass.
In lieu of flowers the family would request donations in Jack's memory to the charity of your choice.