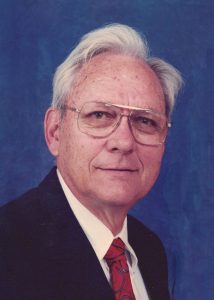 Thomas Enoch Boyd of Texas City passed away on Sunday, July 9, 2017. He was 86.
Tom was born on Wednesday, November 23, 1930 to Frederick and Melissa Lorene Pope Boyd at the Jesse Thomas Pope family farm located in Jackson Parish near Jonesboro, LA. His parents could not decide on a middle name and he was given the middle initial of "J", he was affectionately known as "Tommy J".
Growing up during the depression, he and his mother were forced to live with his Pope relatives, grandparents, aunts and uncles, until his mother could secure steady employment, eventually in New Orleans. Tommy J attended school in Jonesboro and New Orleans and started high school at Warren Easton HS. After his mother remarried, his step-dad was transferred and they moved to Galveston. While registering to attend Ball High School he learned his father had entered his middle name as Enoch on his birth certificate. However, his mother would continue to call him "Tommy J" for the remainder of her life. While at Ball High, Tom played baseball and basketball, graduating with the class of 1950. After high school Tom briefly attended the University of Tennessee. Back in Galveston, Tom continued to play baseball and basketball and in 1952 he led the Galveston City Basketball League in scoring, in one game scoring 52 points. Tom had previously met Elnora Wilson and they were married in 1953. They shared over 61 devoted years of marriage until her death. A son, Thomas, Jr., was born the following year. Tom started work in 1955 as a Lab Technician at the Monsanto Chemical Co. in Texas City and the growing family soon moved to west Texas City. A few years later another son, Ronald, would join the family. While at Monsanto, Tom played basketball and softball in the Texas City Industrial Leagues, continuing into his 50's. Tom would go on to coach baseball and basketball in the youth programs in La Marque; some were his sons' teams and some were not. He also served as Scoutmaster for his son's troop. Tom was also an avid supporter of the Dallas Cowboys. He would often recall when in August of 1972 his team of 13-14 year old boys advanced to the state baseball tournament in the Dallas area. They happened to be staying in the same hotel the Cowboys used during the preseason. Tom was able to meet legendary Coach Tom Landry and they arranged for their teams to meet.
Tom retired after 30+ years combined service at the Monsanto/Conoco/DuPont chemical facilities in Texas City and Chocolate Bayou. He was a long time member of the Queen of Peace Catholic Church in La Marque.
Tom is preceded in death by his mother, Lorene P. Everts, his wife, Elnora M. Boyd, his son, Thomas E. Boyd, Jr., his in-laws, Frank L. and Nora H. Wilson of Galveston, his step-dads Charles Leach of Brockton, MA and Wilmer G. Everts of Pearland, TX, his brother-in-law Frank L. Wilson of Redding, CA, and his father, Frederick T. Boyd of Albertville, AL.
Tom is survived by his son, Ronald J. (Ronny) Boyd and wife Laura, granddaughters Melissa M. Boyd and Kathryn E. Boyd, and grandson Bryan J. Boyd, great-granddaughter Taya Boyd, his sister-in-law Helen Wilson of Redding, CA, nephew Dan Wilson and wife Terri and their families of Redding, CA.
Visitation will be Thursday, July 13, 2017 from 5:00pm – 7:00pm with a Vigil at 7:00pm at the James Crowder Funeral Home in La Marque. A Graveside Service will be at 10:00am on Friday, July 14, 2017 at Mt. Olivet Catholic Cemetery in Dickinson, Texas with Father Chacko Puthumayil officiating.
The family would like to thank the staff at Regent Care Center of League City for their compassionate care of Tom over the last years.
In lieu of flowers, contributions may be made to the Queen of Peace Catholic Church in La Marque or a charity of your choice.