Thomas Edward Stunson, Sr.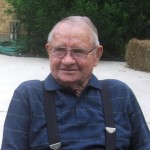 Thomas Edward Stunson, Sr., 87, a thirty three year resident of La Marque, Texas, passed away April 1, 2014. He was born September 18, 1926 in Mayfield, Kentucky to parents Everett and Erma Iona Stunson. He moved to Galveston after Hurricane Carla and remained there until 1981. He served in the U.S. Army and was a member of Sons of Herman. Thomas was a painter for forty one years with Local #585. Many knew Thomas affectionately as Paw Paw. He had a zest for life that never waivered; he enjoyed having his morning coffee and loved spending time with his family and friends. Singing and playing guitar for family and friends was one his favorite things to do. He also had a passion for woodwork and could build anything out of a piece of wood.
He is preceded in death by his parents, his loving wife of 41 years, Ida C. Stunson; daughter, Darlene Colombo; sons, Kevin Presley and Bennie H. Presley, Jr; and sister, Barbara McIntosh.
Those left to honor and cherish his memory are his daughters, Marilyn Sue Mariner; son, Thomas Stunson, Jr., Terrance Stunson, grandchildren, Trey Presley, Michael Colombo and wife Melony Colombo, Kelli Roberts and husband Melvin Roberts, Melanie Whitney, W.R. Lusk and wife Samantha Lusk, Lindsey Stunson, Katie Stunson, and Michal Presley; great-grandchildren, Madison Whitney, Jonathan Colombo, Justin Colombo, Ellie Presley, Wyatt Lusk, and Dalton Lusk; one great great grandchild, McKenzie Colombo and extended loving friends family members. Pallbearers will include Trey Presley, W.R. Lusk, Paul Anthony, Mark Garcia, Sean Welsh, and John Parsley; Honorary Pallbearers include Christopher Colombo, Danny Cleary and Ronny Low.
Our family would like to thank Darlene Hubbard, Mary Reed and Dr. John Griffin. A special thank you to Joni Leribeus with Hospice Care Team; these wonderful people had a great impact on his life and we couldn't thank them enough for the care they provided him.
A time of visitation and reflection will be held from 5 p.m.-8 p.m. Thursday, April 3, 2014 at Crowder Funeral Home in Dickinson, Texas. Services celebrating Thomas's life will be held at 10:00 a.m. Friday, April 4, 2014 at Crowder in Dickinson.