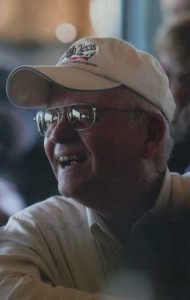 Thomas Allen O'Rourke, 69, passed from this life on January 17, 2015.
Born to Patrick and Irene O'Rourke on May 20, 1945 in Abbeville, Louisiana, Thomas moved to Texas as a child and eventually settled in Texas City. There he met and married Susan Gail Mottesheard. Raising three children, they made Texas City their lifelong home. On August 29, 2014, with a host of loving family members present, they celebrated their 50th wedding anniversary.
Thomas began his career as a clerk with Union Carbide Corporation, then became a chemical purchasing agent there. Later in his career, he went to work for Exxon Mobil where he was a Category Specialist in the Catalyst and Chemical Division at Exxon Mobil Global Services in Houston, Texas. He was a valued and respected friend and colleague, remembered there as a warm and gentle giant.
An avid fisherman, one of Thomas' greatest joys was spending time on the waters of West Bay fishing with his sons, grandson, Brenan O'Rourke, nephew, Duane O'Rourke, and his lifelong friend, Woody Schreiwer. He also enjoyed taking his friends on guided fishing trips, having earned his U.S. Merchant Marine Officer's License from the United States Coast Guard.
Thomas' family was the light of his life. Slow to anger and quick to forgive, he was a gentle husband, father, and grandfather. Thomas was loving, generous, and a completely giving man of God, and he delighted in family gatherings.
He is survived by his wife, Susan Gail O'Rourke, and his three children, Marcia Gayle Herbeck and husband, Kirk, Thomas Bryant O'Rourke, and Eric Wade O'Rourke and wife, Andrea. He also leaves eight grandchildren, Erica Baily, Matthew Herbeck, Carolyn O'Rourke, Bethany O'Rourke, Brenan O'Rourke, Emily O'Rourke, Andrew O'Rourke, and Erich Boettner, and 10 great-grandchildren. He is also survived by his brother John O'Rourke and wife, Vickie, and numerous nieces and nephews.
He was preceded in death by his parents, Patrick and Irene O'Rourke and sister, Mary Joyce Warren.
A Funeral Mass for the repose of the soul of Thomas Allen O'Rourke will be held on Thursday, January 22, at 10:30 at Shrine of the True Cross Catholic Church in Dickinson, Texas. Burial will follow at Forest Park Cemetery, 21620 Gulf Freeway, Webster, Texas.