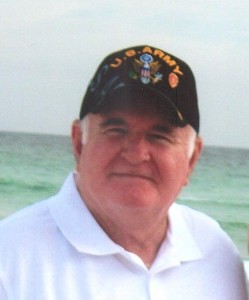 Thomas Allen Burrows, 68, passed away suddenly on Tuesday, April 7, 2015.  The family will receive friends starting at 5 pm on Thursday evening, April 9, at Crowder Funeral Home in Webster. A service will start at 6 pm followed by a visitation till 8 pm.  Thomas will be laid to rest with military honors in the Forest Park East Cemetery at 10 am on Friday, April 10.
Thomas Allen Burrows was born on September 25, 1946 in Milwaukee, Wisconsin.  He was the son of Charles E. and Diana (Jelly) Burrows.
On February 8, 1966 he entered the U.S. Army and served as a Med Spec in Vietnam.  He received the Army Commendation Medal and a review for the Purple Heart.  He received 100% disability from the military due to injuries he received when jumping from a helicopter.
Tom was united in marriage with Charlotte Jean O'Neal on June 29, 1968.  To this union three sons were born. In 1978, the family moved from St. Petersburg, Florida to Houston, Texas.  Tom loved teaching his boys sports, respect and honesty.  He served as a member and coach of the Boy's Club Soccer League.  He also enjoyed coaching and playing football, coaching baseball and playing tennis.
Tom died from complications due to heart surgery on Tuesday, April 7, 2015 at Kindred Hospital in Webster.  He was preceded in death by his parents, brother, Chuck, sister-in-law, Mary Boyette, and son, Trey Matthews Burrows.
He is survived by his wife, Charlotte; son, Todd Daniel Burrows and his wife, Kathleen and their daughters, Kailey, Sarah and Hannah; son, Scott Thomas Burrows and his son, Ezra Thomas Burrows and step daughter, Valeria; and his son, Trey's daughter, Karina.   Other family members include brother and sister in laws, Jim and Marie Gordon, Peggy and Charles Cannon, Sandy Biggars, Debbie and Dave Chase and John David and Brenda O'Neal and numerous nieces and nephews.
Tom will be remembered as a man of love for everyone he met in his lifetime, no one was a stranger.  He loved summer vacation visits with family in Destin, Florida (Tom would feed the homeless whenever on vacation).  He also enjoyed going to casinos not just to gamble but to talk with everyone he met.
Above all, Tom loved God and he knew God would welcome him into His Kingdom where he will be greeted by those who are already there and will await the arrival of those to join him. Till that day he will truly be missed by his family and friends.