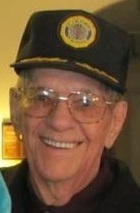 Theodore W. Jones, 87, passed away on July 9, 2015 in Houston TX. Ted was born December 7, 1927 in Reading, PA to William and Gladys Jones Sr.
He joined the Army Air Corp during World War II and served in the Air Force during the Korean and Cold Wars for a total military service of 30 yrs.; he served as a member of the Houston Police Dept. for thirteen years; he was a member of St. Luke's Catholic Church, Life Member of the VFW, American Legion, and Elks Lodge.
Ted is preceded in death by his parents, William and Gladys Jones Sr.; sisters, Dorothy Marcotte,Carolyn McLaughlin, Ethyl Spitzer and Loretta Katerman; brothers, William "Bill" Jones Jr.,Ralph Jones and Victor Jones.
He leaves behind to cherish his memories, wife of 63 years, Geraldine "Deanie" Jones; son, Douglas Jones and wife Sophie; daughters; Annette Bush and husband Henry, Sharon Polak and husband James, Michele Friddell and husband Michael, Tina Vaughan and husband James; grandchildren: Shannon and Jennifer Stewart, Michael Moreno, Nicholas Polak, James Vaughan, Christopher Polak, Tarah Friddell, Garrett Friddell, Andrew Garcia and wife Bri, Amanda Barrett and husband Shon; great grandchildren: Cameron Cleveland, Anthony Moreno, Kaden Moreno, Mackenzie Moreno, Madison Barrett, Paisley Barrett, Scarlett Barrett, Brielle Garcia, Briley Garcia, Vera Garcia.
Visitation will be Tuesday July 14, 2015 from 5:00 p.m. to 8:00 p.m. with a Vigil Service beginning at 6:00p.m. at Crowder Funeral Home in Pearland, TX. Funeral Service will be the following day Wednesday at 10:30 a.m. at the funeral home. The interment will be at Houston National Cemetery at 12:30 p.m. immediately following the service. American Legion Post 490 will be hosting a reception following the interment starting at 1 p.m.
In lieu of flowers, family request that memorials be made in Theodore's name to: Texas Children's Cancer Research.