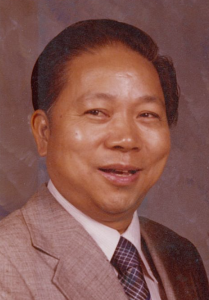 Tchong Chin Mao, known as TC to many, passed away on Friday, September 8, 2023, at the age of 93.
Dr. Mao was born on April 12, 1930, in Jian Shan (江山), Zhejiang Province, China, the only son of the late Wei-yang Mao and Chiang-lian Mao.
Tchong Chin Mao was a brilliant man and an engineering prodigy who excelled academically at every level. He graduated from the prestigious Hangzhou Number One High School and later attended Shanghai Jiao Tong University. After the outbreak of the China internal civil war in 1946 following World War II, TC moved to Taipei, Taiwan, with his father, the late Wei-Yang Mao, in 1949. There, he completed his undergraduate studies in agricultural engineering at National Taiwan University.
Dr. Mao went on to teach agricultural engineering at National Chai-Yi (嘉義) Institute of Agriculture and Tai-Zhong (台中) University. He authored two university textbooks and four technical manuals, earning the distinction of being voted Professor of the Year at Chai-Yi University by his students.
Tchong first visited the United States in 1959 as part of the US-Taiwan Government scholar program, where he pursued graduate studies at Michigan State University. He returned to Taiwan in 1960 and met Jean Shou Chien, whom he married in 1961. Their union lasted 42 years until Jean's untimely passing in 2004.
Tchong became a part of the Class of 1973 Aggies, earning his Master's degree in Agricultural Engineering in a record time of just 10 months. In 1975, he returned to Aggieland to complete his Ph.D. and post-doctoral work. The legacy of Texas A&M University education continued through the Mao family, with 10 additional TAMU diplomas earned by his children and grandchildren.
Dr. Mao had a wide range of interests, from geopolitics to Chinese medicine to gardening. He was "juicing" long before it became a trend. His passion for invention resulted in numerous US patents, though they never yielded commercial or financial success, a source of disappointment for him over many decades. However, this never deterred him from generating new ideas and publishing his work.
In his twilight years, he wrote on various subjects, including advice on maintaining good health, tackling mental challenges, and achieving a long and fulfilling life. In 2022, his primary care physician remarked, "Dr. Mao, you are the healthiest person over 90 that I have ever met
Dr. Mao is survived by his children, Sophia, William, and Susan, along with their spouses, James, Merril, and Charles, his five grandchildren, Joshua, James, Aaron (AJ), Annika, and Rafa, and his great-grandson, Michael.