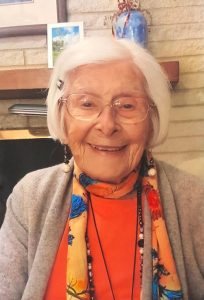 On the evening of May 12th, 2022, Sylvia quietly left her earthly realm, to reside for all eternity in the loving arms of her Lord.  She was at home, surrounded by family – with many close friends having visited, in the days leading up to her death… she shared many a hug and always a smile!
Born December 13,1922, on the Richardson family farm, located between Christie and Neillsville,  Wisconsin… the third living child, of John Luther Richardson, and Alice May (Griffiths) Richardson.  Sylvia was the last surviving member of her siblings.
She was preceded in death by both parents, as well as an older sister, Maureen (Richardson) Hoeppner and Husband John, of Eau Claire; older brother John Laverne Richardson and wife Jane (Massenburg) Richardson, of Hampton, VA; two infants siblings that did not survive – Robert D. and Ella M. Richardson; a younger sister Norma Jane Richardson and her life partner, Carla Lindgren, of Olympia Washington; and younger brother James Burton Richardson of New York, NY.
Sylvia grew up, predominately, in Eau Claire, Wisconsin, graduating from Eau Claire HS in 1940.  After working a few years there, she moved to Hampton Virginia in 1944-1945, taking a room in her brother John's wife Jane's family home.  She soon took a job, as a secretary, in the Planning Office, at the N.A.C.A. at Langley Air Force Base.
It was there that she met her one true love and future husband, Jack Albert Kinzler – who was working in the West Machine Shop, at that time… they were married June 21, 1947 at St. John Episcopal Church, Hampton, VA… sharing nearly 67 incredible years of marriage.
They built their first family home, there in Hampton, at 101 Congress Avenue, in Merrimack Shores – Jack doing much physical labor, weekends and evenings, while acting as his own contractor – to keep costs down.
Sylvia continued to work at N.A.C.A., until their first child, John Edward, came along in 1951 – then she happily shifted her 'work' to the family realm.  The family grew, with Nancy Griffith being born in 1954, followed by James Douglas in 1957.
Moving with Jack and the three kids, to Houston, Texas, with NASA, in 1962 – they built their second family home in Timber Cove, and settled into the new neighborhood, along with many other 'Space Families' – what an exciting time it was!  Mom said that for at least the first year, she "felt like a Queen", living here on Pine Shadows Dr.
Sylvia lived her life with grace & compassion… spiritually centered in her beloved Webster Presbyterian Church… she never met a stranger… always ready with a kind word or helping hand.
She also shepherded the day to day activities of her own busy family – and was an equal partner in a loving marriage – starting just after WWII, through the first 25 years of the Space Race, and beyond.
Through many years of retirement adventures – she and Jack travelled to the UK and Europe to explore family history, visited extended family across the US, and met up with old friends from their N.A.C.A. days.
Sylvia was an avid learner, and lover of BOOKS throughout her long life – with interests in archaeology, history, philosophy – not to mention the love of a good mystery!  She was also an accomplished gardener – a charter member of the 'Dig N Design' Garden Club, and an active cyclist for much of her adult life.
She's proved to us all, what it means to be the best darn Mother, Grandmother, and Great-Grandmother that ever there was!
Survived by:
Sylvia's brother James Richardson's wife Melanie (Grill) Richardson of Cornwall Bridge,CT.
Sylvia's son John and wife Linda (McCoy) Kinzler of Santa Rosa, CA; John's son E.Tyler and his wife Paige (Cauffield) Kinzler and their young son John Clarke, of Crowley Lake, CA; John's daughter Megan Howatt-Kinzler and her fiancée Greg Gradwell and their two sheep (🐏) of Sebastapol, CA; Linda's daughter Allison and husband Brian Thomson, and their sons Ely Doyle and Everest Thomson of Santa Rosa, CA; Linda's daughter Bethany and husband Anderson Theodore and their daughter Violette of Hidden Valley Lake, CA;
Sylvia's daughter Nancy of Austin, TX; Nancy's daughter Bronwen Griffith Kinzler-Britton of Los Angeles,CA, and Nancy's step-son Lindsay MacLean Britton and partner Aniki Mirzaei of North Vancouver, B.C. Canada
Sylvia's son James and wife Kim (Jones) Kinzler of Taylor Lake Village, TX; their son Andrew (Andy) Jones Kinzler of Taylor Lake Village; their son Jeffry (Jeff) Alan Kinzler and wife Jennifer (DuPont) Kinzler and two sons, Jackson and Jonathan of Aledo, TX; their son Erik Alcwyn Kinzler and wife Libbie (Guina) Kinzler and son Colin of Pearland, TX.
As well as Sylvia and Jack's many nieces, nephews – along with the children and spouses of the same… at least three generations, rolling along… continuing Sylvia's (and Jack's) Spirit… Aren't we Blessed…
There is quite a huge hole in our hearts just now… but…
as Dietrich Bonhoeffer once wrote – and I excerpt fragments here:
"…the more beautiful and full the remembrance's, the more difficult the separation.  But gratitude transforms the torment of memory into the silent JOY… a precious gift deep within, a hidden treasure of which one can always be certain."
'Celebration of Life' will be held June 25th, 2022, at 2pm
Webster Presbyterian Church
201 W. NASA Pkwy.
Webster, TX 77598
In lieu of flowers, the family suggests a donation to any of the following:
💐Webster Presbyterian Church – www.websterpresby.org
Please make a note designating "WPC Endowment Fund"
💐World Central Kitchen – www.WCK.org
there is a direct link for Ukraine donation, if you are so moved:
https://donate.wck.org/give/393234#!/donation/checkout?c_src=ukraine-email-2
💐Free The Captives – www.freethecaptiveshouston.com