Steven Rudolph "Rudy" Roloff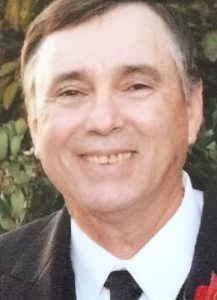 Steven Rudolph Roloff "Rudy", 67, resident of Santa Fe, Texas went to be with the Lord, Saturday, July 1, 2017 with his wife by his side. He was born in Corsicana, Texas on January 24, 1950 to proud parents, Vernon and Lucy Roloff.
He graduated from Santa Fe High School in 1968. Rudy proudly served in the U.S. Army. While in the service he married his wife of 46 years, Gwen. Upon returning home he worked as a pipefitter in Local 211 for over 40 years. He was baptized in 1979 at First Baptist Church of Arcadia. Rudy was a loving and caring family man.
He was preceded in death by his parents, and sister, Brenda Hollan.
He leaves to cherish his memory, his loving wife, Gwen Roloff, daughter, Hallie Palmer and husband Kevin; son, Mark Roloff; brother, Ben Roloff and wife Aleida; as well as two grandchildren, Luke and Avery Palmer.
He enjoyed fishing, sports and visiting with his many friends.
In his honor, a visitation will be held Friday, July 7, 2017 from 6:00 – 8:00 pm in the Crowder Funeral Home Chapel, Dickinson, Texas. A funeral service will take place Saturday, July 8, 2017 at 11:00am followed by interment at Galveston Memorial Park, Hitchcock, Texas.