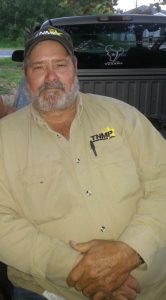 Steven Alan Walker of Texas City, Texas, peacefully passed from this life Friday, June 16, 2023, at the age of 69, surrounded by his loving family.  Steve was born October 11, 1953, in Galveston, Texas, to G.B.  and  Sally Walker.
He was a devoted son, brother, husband, uncle, father, grandfather, great-grandfather and friend.  His love was felt by all who knew him and he will be remembered for his sense of humor, kindness and willingness to help anyone in need.
Steve retired from Texas New Mexico Power in 2015 after 37 years of dedicated service. He remained close to the "crew" that he worked with, and even frequently went to the office for visits to ensure he stayed in touch.
Steve was also a dedicated fan of the Houston Astros.  He and his beloved dog, Sassy, rarely missed a game.
Steve was preceded in death by his wife, Kathryn Elizabeth Walker of Texas City, Texas; his parents, G.B. Walker and Sally Nesmith Walker of Texas City, Texas; a brother, Mike Walker of Mansfield, Texas; and a granddaughter, Sarah Jessica Edwards of Friendswood, Texas.
Survivors include his son, Scott Walker of Bayou Vista, Texas, and his three daughters: Melissa Hengst and Arthur Cruz of League City, Texas; Michelle White and husband, Joe, of Pearland, Texas; and Kathy Grasley and husband, Bud, of Santa Fe, Texas.  He is also survived by his brothers, Douglas Walker and wife, Pilar, of Bryan, Texas; and Hal Walker and wife, Velva, of Louisville, Kentucky.
Steve was a loving grandfather and will be greatly missed by his grandchildren, Scott Walker II; Courtney Garcia and Bud; Eva Walker; Jacob Boss-Walker, Heath Mosley and Melody; Camron Mosley and Lindsey; Gerren Stuck and Shayna; Haleigh Parson (his "right hand") and DeAnthony; and Mark Grasley, as well as numerous great-grandchildren, nieces and nephews.
Family and friends are invited to a visitation that will be held on Friday, June 23, 2023, from 5 p.m. to 8 p.m.  Funeral Services will be held Saturday, June 24, 2023 at 10 a.m. Both will be held at Crowder Funeral Home in La Marque, Texas.
Burial services will follow at Hayes Grace Memorial Park, in Hitchcock, Texas.
Pallbearers will be Scott Walker, Scott Walker, II, Heath Mosley, Jake Mosley, Camron Mosley, Mark Grasley, Gerren Stuck, DeAnthony Parson.  Honorary Pallbearers are Bert Perez, Dustin Ringeut, Mark Wohleb, Jeff Winkler, Steve Anderson and Robert Walker.
Special thanks to Clear Lake UTMB ICU nurses, Katie, Olivia and Halen; as well as Dr. Malik, for their amazing care during his last days.