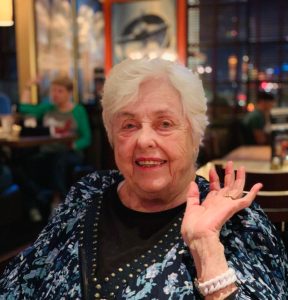 Sterling June Broughton, 85, of Pearland, TX passed away peacefully on November 21, 2021 at her home surrounded by her loving family.  Sterling was born on July 31, 1936 in Athens, Georgia to Boyd and Grace Butler.   She lived in Pearland, TX for four years. Prior to that she and her husband lived in Dickinson, TX. Sterling was a loving wife, mother, grandmother, great-grandmother, and treated everyone she met like they were family.  Sterling lived a vibrant life.  She met her husband Bill at the University of Georgia where she was studying to be a school teacher. She started a school on Sapelo Island, Georgia, where she taught the children living on the island. When she moved to Texas she became an active volunteer for Clear Creek Independent School District where all four of her children attended. Sterling and her husband Bill spent many years traveling through West Texas which they both loved.
Sterling is preceded in death by her parents Boyd and Grace Butler; sister Patricia Grace Doster and brother William Howard Reynolds III.
Sterling is survived by her husband of 63 years, William "Bill" Spears Broughton, Jr.; daughters Frances Grace Broughton Templeton and her husband Ricky, Cindy Sterling Broughton Graves, Anna Elizabeth Broughton Harris and Sally Estelle Broughton Culley and her husband Joseph; sister Mary Alice Naumann and her husband Charles; grandchildren Destiny Amber Micklin and her husband Justin, Mark Joseph Carr, Jr., Laurel Anna Carr, Rebecca Lynn Templeton McMahon and her husband Jarett, Sara Elizabeth Phillips and her husband Stephen, Daniel Lloyd Graves and his wife Gabi, Kelsey Sterling Graves, David Benjamin Harris, Catherine Grace Harris, Claire Grace Culley, Robert Spears Culley, Lawson Joseph Culley and Ella Sophia Culley; great grandchildren Dovelin James Micklin, Kian Patrick Micklin, Spears Butler Micklin, Nancy Charlotte "Charley" McMahon, Haley Ann Spencer and Sterling Rebel Lackey.
There will be a memorial service on November 27, 2021 at 2:00 p.m. at Crowder Funeral Home, 2422 E. Broadway St. Pearland, TX 77581, with Pastor Mike of New Hope Church officiating. A Celebration of Life will follow at 3:30 at Golf Crest Country Club, 2509 Country Club Drive, Pearland, TX 77581.
In lieu of flowers donations may be made to National Multiple Sclerosis Society, 1050 N. Post Oak Rd Ste 240 Houston, TX 77055.
For those who can't attend, please click the link below at time of service