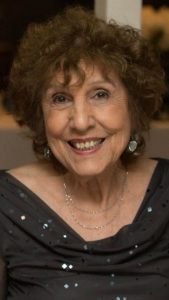 Stella Joan Gallaher, 86, passed away Friday July 28, 2017 at her home in Spring, TX due to complications following lung cancer.
She was born April 10, 1931 in Pittsfield, MA and was one of four children. After graduating high school, she attended Roanoke College in VA. She wed Charles Gallaher in 1956, and they were married for 20 years. They had 2 children, Edwin and Charlene, and they resided in Cedar Rapids, Iowa. The family moved down to Texas in 1983 where Stella retired from Witco Chemical Co. in Houston. She then moved to El Lago with companion Frank Stephens to live her dream on Clear Lake.
Stella was a wonderful, loving, and caring mother and grammy. She was an avid reader, loved to play bridge, go to the gym, travel, and to spend time with her family.
She is preceded in death by her parents, John & Harriet, her brother Bill, her sister's JoAnn & Geri, her long -term companion Frank, and her son Eddie.
Stella leaves behind the father of her children, Charlie Gallaher (Cedar Rapids, IA), her daughter, Charlene Cally (Mike), & granddaughter, Brittany Cally (Spring, TX), the family dog, Zoey, additional family members, and many friends.
A visitation was held on August 1, 2017 at Crowder Funeral Home in Webster, TX. A private memorial will take place at a later date with immediate family.
"Your song has ended but your melody lingers on…" Three Peas in a Pod. We both love & miss you Grammy!