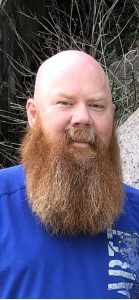 On Saturday, February 11, 2023, Shawn Phillip Moore, loving husband and father of one, passed away at age fifty.  Shawn was born on March 1, 1972, in St. Cloud, MN to John and Yvonne (Merrill) Moore.  He received his Bachelor of Science in Civil Engineering in 1994 from Texas Tech in Lubbock, TX and worked as a Project Manager in Plant Engineering for Celanese for twenty-two years and for Jacobs Engineering Group as a Principal Civil/Structural Engineer for seven years. On November 21,1998, he married Tricia Ann Fincher and together they raised daughter, Caitlyn.  He is survived by his wife Tricia, daughter Caitlyn, mother Yvonne, brothers Rick and Kevin, and sisters Kim and Kelie.
Shawn was an intelligent, kind, compassionate, spiritual person with a great sense of humor.  He took up several hobbies and interests through the years, to all of which he applied his great analytical mind, passion, and the need to procure everything required to create the best product and/or understanding possible.
Early in his married life, Shawn gained an interest in woodworking and quickly filled the garage with a plethora of woodworking tools and various types of wood products, and the bookshelf with several woodworking tomes.  Needless to say, the garage's functionality changed from a place to store vehicles to a workshop after approximately one year of marriage.  One of his greatest accomplishments to which he applied his woodworking skills and structural engineering knowledge was a loft bed he built for his daughter, Caitlyn.  Not only was it pleasing to the eye, but the structure would probably have withstood a tornado or earthquake.
Over the years, Shawn's primary extracurricular hobby morphed from woodworking to making the perfect barbecue.  As with woodworking, multiple books about barbecuing were added to his library.  Shawn loved researching the best methods and apparatus for producing tasty brisket, ribs, pulled pork, and chicken.  His outdoor-cooking journey led to the purchase of multiple smokers, pits, and kettles, all of which he lovingly tweaked and maintained.  Shawn enjoyed smoking brisket above all else.
Shawn was a true engineer at heart and always strived to understand the technical aspects (apart from I/E engineering) of every project he managed through the years.  His motivation for technical understanding was driven not only by his conscientiousness and work ownership, but mostly by his love of learning.  Shawn also loved to share his knowledge with his wife and daughter (starting when she was practically a toddler) with his first lesson being sidewalks and other pavement are made of a product called concrete, NOT cement.
A memorial will be held on March 25, 2023, from 10:00 am to noon, At Crowder Funeral Home, Webster, TX.  The family is asking in lieu of flowers, donations be made to Houston Hospice or MD Anderson Cancer Center.