Sharon Pauline Cannon Macaluso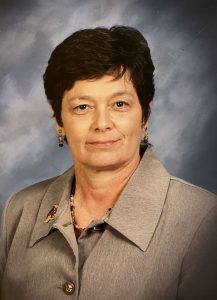 Sharon Pauline Cannon Macaluso, 74, of Hitchcock passed away on Thursday, December 5, 2019.  She was born May 27, 1945 in Texas City, TX to George and Velma Cannon of Hitchcock, TX.
Sharon was a lifetime resident of Hitchcock and was a member of Class of 1963 of Hitchcock High School. She was also a member of First Baptist Church Hitchcock, were she was a member of The Friendship Class, taught Vacation Bible School, Youth Group Leader and Den Mother for Pack 611 of The Cub Scouts of America. She worked for the County of Galveston for 24 years retiring in 2007.  Sharon was a Teacher's Aid and Substitute Teacher with the Hitchcock ISD and a member of The Hitchcock High School Band Association.
She is preceded in death by her parents and her beloved brother, Douglas Cannon.
Sharon is survived by her husband of 54 years, Joseph "Joe" Macaluso, Jr. of Hitchcock, son Thomas "Tom" Macaluso of Austin, brother Colin Cannon of Hitchcock, sister-in-law Sondra Cannon of Friendswood, nephews; Kerry Cannon and his wife Donna of Friendswood, Earnest Richards and his wife Pepper of The Woodlands, Tony Macaluso and his wife Shelley of Houston and William Richards of Pasadena, niece Addie Chesson of Pasadena, and many other great nieces, great nephews, cousins and friends.
Visitation will be held on Friday, December 13, 2019 from 6:00pm – 8:00pm at the James Crowder Funeral Home in La Marque.  Funeral Service will be at 10:00am on Saturday, December 14, 2019 at First Baptist Church Hitchcock, 6601 FM 2204 with Rev. Dr. Mark Neeley officiating.  Interment will follow at Forest Park East Cemetery in Webster, TX.
Pallbearers will be Kerry Cannon, Earnest Richards, Tony Macaluso, William Richards, Kristopher Cannon and Jeffery Lundin.  Honorary Pallbearer will be John Norgan.
Donations in Sharon Macaluso's memory may be made to First Baptist Church Hitchcock Vacation Bible School.