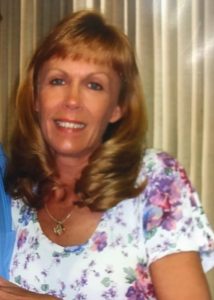 Sharla Dee Tull, a twenty year resident of Pearland, TX was born in Bremerton, Washington on September 1, 1956 and passed away May 14, 2018. Sharla enjoyed art work, mosaic and going antiquing, she loved her grandchildren and animals.
She is preceded in death by her parents and brothers.
Sharla leaves behind her husband of fourteen years, William Alan Tull; daughters: Regina Browning and Amanda Streck; son, Dylan Hirst, wife Melinda; grandchildren: Laila Pulce, Kayci McCleskey, Alexa Crawford, Levi Crawford and Laramie Hirst; lifelong friend, Debbie Pederson.  sisters: Susan summers, Sondra Reynolds.
A memorial service will be held Saturday, May 19, 2018 at 6p.m. in the chapel of Crowder Funeral Home in Pearland.
In lieu of flowers, memorials may be made to: bay area pet adoptions.