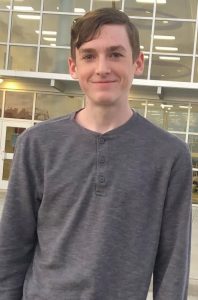 Sean Michael Bradfield, 21, passed on July 23, 2023, in Houston, Texas.
We were overjoyed to welcome Sean "Seawny" into our family on April 13, 2002, in Suffolk County, NY to Sandra Everton (nee Briza) and Jonathan Bradfield. Sean is survived by his parents Sandra and Brian Everton, his older brothers, Erik Bergstrom (with his fiancé Hanna), Timothy Bradfield, and Jared Everton (with his wife Jena) along with many grandparents, aunts, uncles and cousins and a multitude of family members, friends and co-workers who loved him very much.
Sean spent the first six years of his life at home with his family in Medford, Long Island. He was a funny, energetic, and kindhearted little boy, and one of the most imaginative kids who never stopped wanting to play with his brothers, toys, or his dogs. Sean had an early appreciation for being outside in any season and was the first one to run out the door to go play with all of the big kids on Eagle Avenue, sometimes without anyone's knowledge, and so a sliding latch lock was installed all the way at the top where he couldn't reach it. At least for a month or so, when he figured out how to unlock that too. He was never afraid of anything.
Sean was always ready to laugh and have fun, especially when it included his extended family, who absolutely adored him. There was no end to his love of matchbox cars, Hess trucks, trains, or Legos. He competed aggressively with Erik and Timothy in hallway basketball and hallway hockey. His favorite thing of all was Halloween, when his mom would surprise him at the bus stop in full costume to pick him up to go trick or treating. A true New Yorker, Sean was a huge fan of the NY Islanders, the NY Mets and the NY Giants. His loyalty never wavered, and he was looking forward to watching each of his teams get into the playoffs this season. He supported the Astros living in Houston and his all-time favorite game to attend was the Astros and Mets!
After moving to Houston, Texas in 2008, Sean attended elementary at CLCE and joined the Cub Scouts with Tim.  They also attended St. Claire of Assisi School and were altar servers at both St. Claire's and St. Bernadette's. They couldn't wait to go to AYC and Brave together. His extended family here in Houston quickly wrapped him up in their love, and Sean jumped right into his group of cousins with ease, winning numerous contests of "guess my age" down at Kemah Boardwalk. Sean played soccer for the Y in elementary and during middle school he played football at Space Center Intermediate as well as being the only one in the district to play the harp in Orchestra, which he played beautifully. He had a great time watching his mom hauling a harp back and forth to concerts, including one time in a convertible down Bay Area Blvd. He met his best friend Riley in middle school and from day one have been inseparable.
Sean graduated from Clear Lake High School in 2021. As a student he was a favorite member of the Thespian Society both for his acting and his skill in the theater technical department. He was recognized his senior year by the Theater Department and received the award for Best Senior Technician in 2021. When it came time to learn a second language, Sean challenged himself and chose American Sign Language- well before graduation he had achieved fluency in ASL.
After high school he attended the University of Maine and then came home to work in the IT department as a valued teammate at Universal Weather and Aviation here in Houston. His colleagues from around the world have reached out to say what a gifted and talented young man he was. Sean had a love for music and gaming and a gift for computers and technology; he was everyone's IT guy. Whenever someone needed to know the right phone or computer or headphones to get, ask Sean. Laptop giving you problems? Sean would always take a look and figure it out; he was quietly generous with his time, his talent, and his treasures.
He loved to laugh with Hanna while watching stand-up comedy, cooking shows, the Office, and Severance, and didn't hesitate to win Mario Kart against Erik. He was incredibly patient with Tim's coordination of car rides home with friends after school.  He would spend hours listening to all kinds of music from Frank Sinatra to Bob Marley and Greenday. He loved every dog that he met, and spent hours playing and cuddling with Teddy, Gunner, Reagan, Lucy and Bailey. He often pet-sat for friends and neighbors and loved when he could take Wally from across the street for his walks down to the bayou. Never letting most know he was allergic to cats and dogs; it never stopped him.
A few months ago, Sean joined his cousin Hannah's Dungeons and Dragons game group and took absolute delight in engineering elaborate and completely unnecessary side quests that would have everyone laughing for hours on end. He always brought light and laughter into any room or situation. He was thrilled to get up and dance or sing or deliver a few quick jokes even at his own expense to make you feel more comfortable.
As the youngest in his family, Sean often had to go along for whatever ride was occurring during the day, possibly influencing his interest in traveling. This appreciation developed into a love for all-inclusive travel, double fisting chocolate ice cream cones, and maxing out the credit in the game room on the Briza family cruises. He even swam with the dolphins! Last month he flew to New York to cheer for his cousin Abby at her high school graduation. He wanted to come back soon and haul more compost and bond with his cousins around the campfire afterwards. He planned to travel someday to see the sea turtles on the Galapagos Islands.
Sean loved decorating for and celebrating the holidays with family and friends. His enthusiasm for building the train village around the Christmas tree could not be matched in its creativity. After his dad and neighbor found his mom on the top of the ladder and he and his brothers on the ground, he was persuaded to hang the lights. And after getting over a little fear of heights he couldn't wait to climb a ladder and hang up the lights and sing along with the music. No matter what the occasion, Sean found the fun in it, and lived his life finding joy in helping the people he cared about. He had a tattoo placed over his heart of a four-leaf clover for his background and an anchor for his mom. He planned to have "Family" written underneath.
Sean Michael Bradfield lit up a room and always made you glad to be in it with him. He knew how to dance like no one was watching. He loved his family and friends.  He was both fearless and brave. He will be missed terribly, and the world is less bright without his spirit and his smile. We trust that he is in the loving embrace of the lord and all of our family who have gone before him. We are heartbroken that he is gone, and we will love and remember him forever.
These past few days we have heard so many unknown stories of how Sean was quietly generous with his friends and neighbors, and it has been a gift. Thank you for loving Sean. Keep loving each other. As Sean unknowingly taught us:
Love the life you live, and live the life you love. -Bob Marley.
Sean's Family would like to invite all to the Visitation and Viewing that will be held on Sunday, July 30 and Monday July 31, 2023, from 4:00 pm to 8:00 pm each evening at Crowder Funeral Home, Webster, TX.  The Funeral Mass will follow on Tuesday, August 1, 2023, at 10:30 am at St. Bernadette Catholic Church, 15500 El Camino Real, Houston, TX 77062.