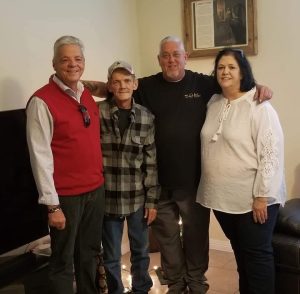 Scott Phillip Smith, 59, passed away December 5, 2022, in Houston, Texas.  He was born January 18, 1963, in Ayers, Massachusetts.
Scott served in the US Army and was very proud of his country.
He is preceded in death by his: mother, Shirley Ann Lucas; father, Albert R. Smith Jr; dad, Daniel L. Lucas Sr.  Scott is survived by his: children, Dallas Palacious, Ashley, Amber and Scott Smith Jr.; grandchildren, Abigail, Zachery, Avrie and Atticus; sister, Teresa Garber; brothers, Raymond Smith and Daniel Lucas Jr.; nieces and nephews, Tiffany Richards, Kaysie Collinsworth, JJ Richards, Taylor Lucas, Clayton Lucas, Brenden Lucas, Trennan Richards, Kristina Zinna, Aalayah Collinsworth, Emma Chavez, Jazmine Richards and Lillyanne Richards as well as extended family and friends.