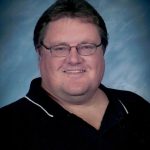 Scott David Ritterhouse, 52, passed away on December 5, 2018 in League City, Texas.
He was born October 2, 1966 in Houston, Texas to Charles and Pat Ritterhouse. Scott is survived by his wife of 18 years, Melesa, his parents Charles and Pat Ritterhouse, sister Jennifer Ritterhouse and husband Paul Labys, niece and nephew Sophia and Stephen Labys, dear friend Adam Conger and numerous aunts, uncles, cousins and friends.
Scott graduated from La Porte High School in 1985 and Texas A&M University in 1989 with an Electrical Engineering Degree. He was a lifetime member of Taylor Lake Christian Church. Scott enjoyed a 25 year career in space flight working with Lockheed and MEI Technologies engineering firms, integrating payloads for the Space Shuttle. Scott enjoyed being outdoors hunting and camping and also building outdoor furniture. He had a great mind for drawing ideas on paper and making them come to life with the tools in our garage. It was a heartfelt experience to watch his mind work. He was a wonderful and patient teacher, though he would never brag about it. Those who knew his unique sense of humor and those who loved him, really appreciated it. When playing 42 (Dominoes), he was the partner you always wanted but the foe you never wanted. Scott had a heart of gold, was my partner in crime and leaves a hole that could never be filled.
The family will hold a Celebration of Life, January 5, 2019 at 1pm at Taylor Lake Christian Church, 1730 Old Kirby Road, Seabrook, Texas 7758.
Rather than condolences, please share your favorite memories of Scott. In lieu of flowers, please donate to Team Rubicon National Headquarters, 6171 W. Century Blvd., Suite 310,
Los Angeles, CA 90045, Operation BBQ Relief, PO Box 3825, Shawnee, KS 66203, or a charity of your choice.