Saseen "Doc" Fredrick Joseph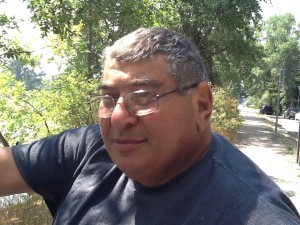 Houston, Texas – Saseen "Doc" Fredrick Joseph 73, of Kemah, TX passed away Thursday August 18th  surrounded by family, at St. Luke's Hospital in Houston due to complications of pneumonia.
Doc was born October 12th, 1942, in Glens Falls, son of the late William (SJ) Joseph and Elizabeth (Boe) Joseph. He was also predeceased by his sister Carol Ann and brother Richard Joseph.
He is survived by his long-time partner Linda Semchuk of Kemah, TX.
Also survived by his son William, his wife Amy and their daughter Genevieve of Charlotte, NC and his son Jeffrey and his wife Sandy of Livingston, MT; their mother and his former wife, Eugenia "Jean" Joseph of Fort Mill, SC; his sister Donna and her husband Arba Bassett of Hudson Falls, NY and "baby sister" Denise Joseph of Glens Falls as well as many cousins, nieces and nephews.
Additionally he is survived by Linda Semchuk's daughter Debbie and husband Dr. Eric Ellis, their children Megan and Parker of League City, TX also Linda's son Brian Semchuk of Glens Falls, NY.
Doc was a graduate of St. Mary's Academy in Glens Falls, a graduate of the State University of NY, at Cobleskill and attended Cornell University. He began a career working for Retail Credit Company, now Equifax in Syracuse, NY. However, in 1967 he and his wife, Jean, returned to Glens Falls to acquire the family diner. In the early 1970s, Doc expanded the diner to a 100 seat, family style restaurant. By the end of the '70s he began an off-site catering company specializing in weddings and corporate events. After a major restaurant and operational expansion in the mid '80s, he incorporated creating Joseph's Food and Catering Company and was proud to sell the business to his two sons in 1990. Doc continued to play an integral role in the company and greatly enjoyed involvement with large scale catering events. .
Doc was a man with many interests, and along with a burgeoning restaurant business, he simultaneously began Tri-County Dairy Replacements in 1970.  An innovator, he tested a rapid method of rotationally raising newborn calves which at that time was unproven. He was able to grow this into a three-farm operation. Throughout the 70's and mid 80's, Doc raised Standard Bred Horses on his farm in Gansevoort and raced at Saratoga Harness Raceway.
He was a consummate community advocate and was a founding member of the Glens Falls Farmers' Market, which recently celebrated its 40th anniversary. He supported The Tri-County United Way, NYS High School Basketball Tournament and the local soup kitchen. He also served on the board of directors for the Glens Falls Area Youth Center and The Adirondack Regional Chambers of Commerce. In 1996 he served as Chairman of the Chamber and in the following years in a Vice President's position.
Doc was an avid fisherman traveling to Mexico for many deep sea adventures. He fished Lake George for years and also had a boat on Lake Ontario, which became his favorite salmon fishing location. He was a competitive skeet shooter and later in life, family travel involved spending time with his greatest love, his granddaughter, "Princess" Genevieve. She gave "Papa" immense joy. In most recent years he and Linda enjoyed visiting casinos and he always loved a good poker game.
He was very well read and always eager to learn. He loved every aspect of business and was amazed at the speed and complexity of commerce in today's world. He always enjoyed political discussions and debate. He was an incredible sounding board with wisdom that crossed generations.
He is loved and will be deeply missed.
A memorial service will be held on Monday, August 22, 2016 at 10am at Crowder Funeral Home, 1645 East Main, League City, Texas  77573.  Celebration of his Life at a future date to be determined Glens Falls, NY. In lieu of flowers, donations in Saseen Joseph's name can be made to the Glens Falls Area Youth Center, 60 Montcalm Street, Glens Falls, NY 12801