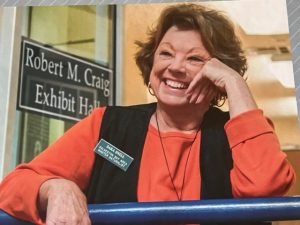 Sara Snell, 80, a resident of Dickinson, Texas passed from this life on Tuesday, October 17, 2023. She was born on February 19, 1943 in Galveston, Texas to parents, Bennett D. Wilson and Eloise (Petterson) Wilson.
For many years, she worked for Union Carbide and then DOW Chemical and retired in 2003. Sara rose in the ranks from clerical to a change management team leader. She was an active volunteer in the Galveston Bay Area Texas Master Naturalist Program for nineteen years serving as President, Education Outreach Coordinator, Teacher Workshops Facilitator and Training Coordinator earning her Treasures of the Bay Awards and Dick Benoit Leadership Award. Sara was an avid birder, gardener, reader and adventurer who traveled to over 23 countries creating great memories, stories and jolly good laughs.
Sara is preceded in death by her parents, two siblings and son, Kevin Hanson.
She leaves her memory to be cherished by her loving husband, Robert; daughters, Wendy Hanson, Ginger Stuart and husband, John and Tuesdi Russell and husband, Steve; two grandchildren and two great-grandchildren. Her sister Sue Lasiter, nieces, nephews, and many dear friends.
In her honor, there will be a visitation on Tuesday, October 24, 2023 from 1:00pm to 2:00pm at Crowder Funeral Home in Dickinson, Texas. A celebration of life will follow at 2:00pm, also at Crowder Funeral Home.
In lieu of flowers a donation may be made to the Sara Snell Scholarship Fund (memo: Sara Snell Scholarship, 4102-B Main Street, La Marque, Texas 77568) or to MD Anderson for Cancer Research: https://secure3.convio.net/mdacc/site/TR/DIY/General?px=1528584&pg=personal&fr_id=1631