Sandra (Sandy) Lee Anderson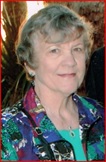 With profound sadness we announce the passing of Sandra (Sandy) Lee Anderson, our loving and caring mother, grandmother, great-grandmother and friend to all whose lives she touched, on March 29, 2022.
Sandy was born on January 13, 1940, to Victor and Audrey McCoy in Fort Wayne, Indiana.  Growing up in Fort Wayne, Sandy was always surrounded by a large, loving family that included many aunts, uncles, and cousins in addition to her parents, grandparents and younger brother, Jim McCoy.
While attending Elmhurst High School in Fort Wayne she was on the four-year honor roll and became her high school's Prom Queen during her senior year.  It was also during her high school years where she met her future husband of 58 years, Dean Anderson.
After high school, Sandy followed in her mother's footsteps and attended nursing school at Lutheran Hospital School of Nursing where she earned her license as a registered nurse, thus growing her caring and loving nature which would continue throughout her lifetime.
On August 26, 1961, Sandy married Dean Anderson, her high school sweetheart to begin their life adventure together.  The adventure continued to grow as they had four sons starting with the birth of Jeffrey in 1962, Kreg (1965), Kenton (1968) and Eric (1970).  During the first 8 years of marriage, they were constantly moving with Dean's career opportunities before arriving in Friendswood, Texas in 1970 where they would settle and raise their sons while developing long lasting friendships.  They both enjoyed traveling and saw much of the country and world together as well as several trips and cruises with their sons and families.
Sandy, Mom, or Nana to her grandchildren, enjoyed sewing, crochet, knitting, gardening in addition to the traveling with her husband and family.  Her greatest joy was being with her family.  In addition to raising four boys, she loved spending time with her grandchildren and watching them grow.  A birthday was never missed as she always organized a family get together to celebrate every occasion and spend time with her growing family.
While being a longtime member of Friendswood United Methodist Church, Sandy raised her young sons through the church and its activities which eventually included weddings.
When she needed more care, Dean and Sandy moved to The Crossings in League City, Texas where she continued to make and enjoy new friends.  Although Sandy battled Alzheimer's during her later years, her kind heart continued to show through with her smiles and happiness.
Sandy is preceded in death by her loving husband, Dean, and devoted sons, Kreg and Kenton in addition to her parents, Victor and Audrey, and brother, James McCoy.
She continues to be remembered by the love of her sons Jeff Anderson with wife Dana, and Eric Anderson with wife Jennifer.  Eight grandchildren – Kayla, Brittney, Andrew, James, Macy, Chelsey, Gage and Cole plus her 10 great grandchildren…and growing, along with numerous other loving family members and friends whose lives she touched.
A Celebration of Sandy's Life will be held on Friday, April 8th:
April 8th – 2:00 PM
The Crossings – Methodist Retirement Communities
255 North Egret Bay Blvd.
League City, TX  77573
The family has setup a Memorial with the Alzheimer's Association.  Her page is at http://act.alz.org/goto/SandyAnderson.  Other options: call 800.272.3900 and mention her name/Tribute or mail to Alzheimer's Association, P.O. Box 96011, Washington, DC 20090-6011 noting her Tribute.
'Well done, good and faithful servant.  You have been faithful over a little; I will set you over much.  Enter into the joy of your master.'
—Matthew 25:21
Don't cry because it's over, smile because it happened.
—Theodore Geisel (Dr. Seuss)
There is something about losing a mother that is permanent and inexpressible—a wound that will never quite heal.
—Susan Wiggs